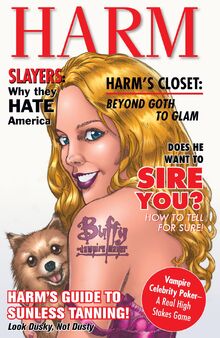 "We're supposed to be monsters, not celebrities. But then along came Harmony Kendall. And now the blood bags love us. Thousands of years of evil, destroyed by reality television."
―Cyn
The vampire craze was a sociocultural phenomenon that followed the exposure of the existence of vampires to the general public. Due to the popularity of vampires, an anti-Slayer sentiment became common, reinforcing the Twilight Group's efforts in destroying the Slayer Organization.
As the first exposed vampire and eventual celebrity, Harmony Kendall was the main spokeswoman of the movement.
Vampires dominating televised media:
Vampires becoming a popular fetish:
"This sucks. Six months ago, I was cool. Had emo chicks lining up to let me suck their blood... What are we gonna do?"
―Unidentified vampire
The growing popularity of vampires apparently came to a halt with the rise of zompires during the end of magic.[20] Although, the public opinion only began to fall with the Supernatural Crisis Act in the United States, which was created in response to a state of fear and violence against the supernatural in national scale after a Shenlong attack in San Francisco. Harmony herself went on an international tour and become an expatriate to avoid being imprisoned in a Safe Zone.[21] New vampires were additionally framed for the death of two thousand people in a nearby town.[22] Despite it was publicly exposed that the tension against the supernatural was fabricated by a series of attacks by the Pandora Project, the supernatural returned to the shadows and the new vampires' leader, Vicki, apparently was ready to hunt people again.[23]
Community content is available under
CC-BY-SA
unless otherwise noted.