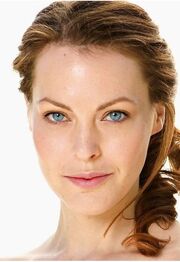 In May 2009, Roy Lee and Doug Davison of Vertigo Entertainment began working with Fran Rubel Kuzui and Kaz Kuzui on a re-envisioning or relaunch of the Buffy movie for the big screen. The movie would not be a sequel or prequel to the existing movie or television franchise, and Joss Whedon would have no involvement in the project. None of the characters or cast members from the television series would be featured. The goal would be to "make a darker, event-sized movie" with "franchise potential." The story would follow a new vampire slayer who must step up to protect the new generation. Kuzui said that the new movie would hopefully take "Buffy into a new place." Vanessa Hudgens was offered a role in the remake, but turned it down because she felt it would be overkill at the height of The Twilight Saga's overwhelming popularity.[1][2]
Whedon was eventually offered a behind-the-scenes role in the new project, but he declined to participate in a reboot.[3]
For 18 months, no further news was heard on this project. Then on November 22, 2010, Warner Bros. signed with the Kuzuis to produce the new movie.[4] (Although 20th Century Fox released the first film and the TV series, the rights to the characters and situations of the first film were retained by the Kuzuis, who could bring the project to whichever movie studio they wanted.) Whit Anderson, an actress with no professional writing credits, was signed to write the new movie. Anderson praised the themes of the show, including the "deep struggle (Buffy) had with duty and destiny, that tug between what you're supposed to be doing and what you want to be doing." The producers also indicated that the new Buffy would not be in high school. The new production was originally aimed for late 2011 or early 2012, nearly 20 years after the last time Buffy was on the big screen.[5] Actress Heather Morris was strongly rumored to portray Buffy.
All interviews with the producers of the planned movie have indicated that they don't have the rights to characters from the TV series such as Angel.
Reaction
When reached for comment, Whedon responded with typical tongue in cheek: "This is a sad, sad reflection on our times, when people must feed off the carcasses of beloved stories from their youths—just because they can't think of an original idea of their own, like I did with my Avengers idea that I made up myself." More seriously, he added, "I don't love the idea of my creation in other hands, but I'm also well aware that many more hands than mine went into making that show what it was."
Sarah Michelle Gellar said in an interview that the reboot is a "To try to do a 'Buffy' without Joss Whedon, I mean that's, like, honestly, to be incredibly non-eloquent: that's the dumbest idea I've ever heard", and that "they don't need to make another one".[6] However, Gellar has indicated she would consider taking part in a Buffy film if the conditions were right and Whedon were involved, saying "If there was ever the right story, we would do it."[7]
In 2009, when the first new about the remake first came out, Alyson Hannigan demonstrated her distaste to it by saying, "That's a very big mistake in my opinion. I mean if Joss isn't involved, it's only the title". Asked about an involvement or her in the movie, she said "not without Joss. Joss is the only reason that we would go back. I mean, it's just ridiculous to think of that TV show without Joss. That's just silly to me… And all the fans know that, too, so I don't know what they're thinking."[8]
Anthony Stewart Head called the reboot "a hideous idea". "I think ultimately he had the idea when he was 19, took it around Hollywood and two people said, 'I'll make your movie.' They changed the original concept…I'm very glad they've done very well with it since, all power to them, but I don't think [you can take] someone's concept and say, 'Actually we're going to remake our concept of somebody else's concept.' It's nonsense."[9]
David Boreanaz reacted to the news of a Buffy reboot with a comical pouting face via a photo on Twitter.[10]
Charisma Carpenter said in July 2011 that "Personally I think it stinks. It's just an opportunity to take something that was loved and cherished and lucrative and franchise it—and make more money from it. To not include the creator is insulting".[11]
Seth Green told CNN's Geek Out! that "there's no public outcry for a remake of Buffy, there's only the opportunity in pop culture where vampires are very popular. If Joss came out and said, 'I want to make a new Buffy movie,' even if he said, 'I want to do it like the reboot of Spider-Man. I want to put Buffy back in high school and I want to tell a different story with this character,' I think people would go with that. But the fact that people who are not connected to it and were not connected to the show or any of the mythology that was created going back to the movie -- which everyone kind of agreed wasn't a perfect version of its potential -- you know, I think that really confuses people. It confuses the audience. They're like, 'How am I supposed to feel about this?'".[12]
Kristy Swanson, the first actress to portray Buffy, said that it would be "fantastic" to be a part of the film.[13]
Nearly a year later, with no further news about the reboot, Boreanaz was asked about the project during an interview with nextmovie.com. Boreanaz replied, "Trust me, I don't have any answers for you." When asked who he thought should play Angel, Boreanaz replied, "Oh, whoever's [the] best fit for the role ... I don't look to see who should play what or [who] should do anything." He also indicated his appreciation for having had the chance to play the role.[14]
When asked about the reboot in an interview with the Coventry Telegraph in November of 2011, James Marsters simply replied, "The only way to make a good incarnation of Buffy is with Joss Whedon at the helm."[15]
Production halt
In December 2011, The Los Angeles Times reported that the Buffy reboot has been halted due to the producers' disappointment with Whit Anderson's script. Anderson has been taken off the project, which has been put on indefinite hiatus.[16][17]
On July 20, 2018, 20th Century Fox Television announced a new Buffy reboot for television with Joss Whedon's approval. This reboot appears to be unrelated to Whitman's earlier (and now likely dead) project. [18]
External Links
References
Community content is available under
CC-BY-SA
unless otherwise noted.