"I didn't stab no one with a trowel. They were pruning shears."
―Sheila
Sheila Martini was a Sunnydale High student that was turned into a vampire. She was portrayed by Alexandra Johnes.
Biography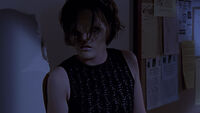 Sheila was first seduced, then kidnapped by Spike, then given to Drusilla. Drusilla needed to be fed as she was too weak to hunt for herself.
Before she was turned, she had a reputation for being wild, which she confirms when we see her leaving the Bronze with two unknown guys seeming somewhat drunk. However it was this lifestyle that ultimately cost her humanity.
After she was turned, she participated in the raid on Sunnydale High. Running into Buffy as the slayer was helping the students and facilty seek safety. She tries to trick Buffy by pretending she was still human then attempted to kill with an axe when her back was turned. Giles saw the attack coming from one of the classroom windows and managed to warn Buffy, who easily thwarted it. Knocking Shelia aside and staking another vampire who was with her. Upon seeing this Shelia wisely runs off, never to be seen again.
Appearances