This article is about the undeveloped show. For the character, see Rupert Giles.
The subject of this article is an undeveloped production.
While planned to be an official project, it has been canceled in any stage of production.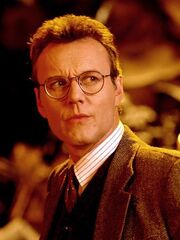 Ripper,[1] also provisionally called The Watcher,[2] is a proposed television show based upon the character of Rupert "Ripper" Giles as a spin-off series from Buffy the Vampire Slayer.[2] More recent information indicated that, if the project were ever made, it would be a TV movie.[3]
Themes
According to series creator Joss Whedon, Ripper would be in the tradition of "classic English ghost stories" and would explore the theme of loneliness.[4] He elaborated: "The people who live there [in England], it's all very isolated. [Giles] himself has been gone for many years. He was surrounded by a de facto family that he no longer has. And [he is] sort of picking up his life all alone, and then getting involved in the underbelly of other people's lives, and finding out all about them. Loneliness is what I think of. It may not be the theme so much as the emotional intent of the series, but that's what really attracts it to me the most."[5]
Anthony Stewart Head, who portrayed the Watcher on Buffy, described Whedon's original pitch: "It was Giles as this sad, lonely man in England without a real reason to be. It was pretty much ghost stories. Week by week, some ghost story would somehow affect him. It's a lovely, lovely story. It's kind of a ghost story. It's also about a man investigating his own soul, and it's fascinating, lovely, sad, and it's classic Joss Whedon."[6] Head referred to the series as intending to be "a slightly more adult show, a bit like Cracker with ghosts."[2]
Series
Head described that Whedon told him about the idea Ripper when they were filming the last episode of Buffy.[7] The plan was to set the show in the UK[8] and to star a young British cast alongside Head, who would still be playing Giles.[2]
Whedon planed six episodes of the series, but American schedulers would prefer to buy up 22-episode series. Head explained a way round might be making six feature-length episodes.[2] It was later reported that Whedon had written the two-hour pilot, and that Jane Espenson and other Buffy staff writers had penned story outlines for other potential episodes.[9]
Film
In 2001, Ripper was being planned to be aired as a miniseries;[2] however, in an interview in December 2005, Head suggested that Ripper would be a "two hour movie, that might become part of a series of [Buffyverse] DVDs."[10]
At Comic Con 2007, Joss Whedon confirmed that talks were close to finished on a 90-minute Ripper special with both Head and the BBC.[11] Head's official website soon announced: "We can now confirm that Ripper may be given a green light for development. Although one step nearer the possibility of becoming a reality, it is still subject to there being a script. If made, it would be a one-off 90 minute TV movie."[1]
Whedon reported that the development process for Ripper would possibly begin in 2008.[12] However, in April 2008, Head stated: "Joss Whedon is busy with another project, I'm tied up too, so at the moment I'd just say that it's still out there."[13] He also mentioned introducing Whedon to the Doctor Who and Torchwood executive producer Julie Gardner,[7] but the 2007–08 writers strike happened and Fox picked up the idea of Whedon's Dollhouse.[14]
Future
In 2010, Head pointed out the scheduling problem in producing Ripper: "The problem being that anything to do with the Buffy universe has to be signed off by so many people, it's pretty much a non-starter from the beginning." Whedon added: "Ripper got so complicated. Fox is great at complicating things. The BBC basically said to me and Tony Head that it doesn't have to be Ripper, 'We'd just like to do something.' It sounded cool, but I was busy doing something else, as I always am. Tony is amazingly enough still friends with me despite years of 'Hey, you know what, we could…'"[7]
About the project being undeveloped, Head said: "It nearly came to fruition. [...] I'd still love to do it in some form. I still think it's a beautiful idea, which is why I'm not telling you what it is — it's the most extraordinary ghost story. It doesn't have to be Giles. I'd still do it as a one-off."[7]
In 2012, two original characters intended for Ripper debuted in the Angel & Faith comic series: Sophronia and Lavinia Fairweather, Giles' eternally young great aunts. The writer Christos Gage revealed that, in Ripper, they were going to be played by Anthony Stewart Head's daughters, the actresses Emily and Daisy Head. Whedon pitched them to Gage and said: "Here are these characters from the Ripper show. If you want them, feel free to use them."[15]
Whedon did not gave up on the project: "That story was always about a mature guy who's lived, and about the choices he's made. So you could make that now, or you could make it 10 years from now. And I've tortured Tony more than any other living human with, 'We're definitely gonna do this!' Because I thought we were. He's working so much, though, I'd feel too guilty. But that's the thing with Ripper: It doesn't go away in my head because he's still right for it, and he could still bring it."[16]
References