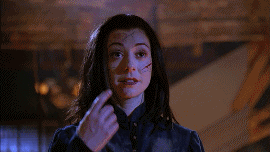 Regeneration was the ability to be cured of a wound quicker than an average human, or to be reconstituted after amputation/destruction of a body part.
Slayers could recover from severe injuries in short periods of time in comparison to average humans. Usually, Buffy Summers was completely healed within 24 hours of being injured,[citation needed] though more serious injuries took at least a few days. She suffered from a stab wound to the belly that required at least a few days to heal,[1] and, according to Vi, was heavily bruised for several days after her second encounter with a Turok-Han.[2] Slayers could receive scars, though, as Buffy had one left from the Master's bite on her neck.[3][4]
Vampires healed rapidly, albeit in a similar way to human bodies. While Spike's broken spine healed, it took him several months.[5][6] Still, Spike gained a scar on his eyebrow after being cut by Xin Rong's sword.[1] Vampires were passive to having body parts amputated,[7] though they could be surgically reattached;[8] they wouldn't survive only if they had their head severed. The surgical extraction of the heart[9] or a magical object as the Gem of Amara[10] gave them the capacity to regenerate from being staked.
Some examples of demons' regeneration: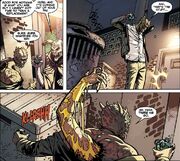 Some examples of witches' regeneration: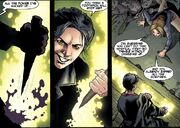 In the dubious canon comic issue Crown Prince Syndrome, Angel developed the ability to regenerate lost limbs, which he demonstrated after James ripped his hands and feet off. Illyria claimed that originally, vampires could regenerate limbs, but the ability was lost as the bloodlines expended and the Old Ones' legacy was diluted, so modern vampires are unable to do so.
Community content is available under
CC-BY-SA
unless otherwise noted.