Possession was the ability to take over the body of another being, controlling their motor functions and suppressing their consciousness. Trans-possession referred to the act of drawing the possessing spirit out of the body of the possession victim into a new host.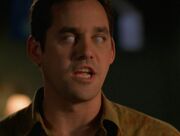 Demonic possession was the term used to describe the control over a human form by a demon. Descriptions of demonic possessions included: erased memories or personalities[1], convulsions, "fits" of inhuman strength[2], and fainting as if one were dying [3]. Unlike in channeling or other benign forms of possession, the subject had no control over the possessing entity and so it would persist until forced to leave the victim, usually through a form of exorcism.
Some individuals who dabbled in witchcraft or demon worship invoked demons, taking their spirit into themselves by invitation as part of worship.
Spiritual possession was when a being who had passed away became "earthbound", such as a ghost, or an astral projection, and began to feed off of the energy of someone who was still a physical being, resulting in noticeable change in behavior.
Some of them drew on the energy of humans who possessed similar emotions.[4] Usually if a living being had negative emotions they would attract earthbound beings who may feed on them, because these negative emotions were characteristic to most earthbound beings who were usually sad, angry or depressed about their situation, the life they once lived or some other situation (which was usually why they wouldn't move on to the afterlife as they were meant to).
Animal Possession was a form of possession where the possessor in question was a wild animal that took on the victim's personal characteristics before corrupting their person. Rupert Giles noted that the Maasai of the Serengeti spoke of animal possession for generations.
The Primals were an African cult of animal worshipers who desired to draw the spirits of wild into themselves as a form of achieving enlightenment. Since they preferred only the viciousness of animals, the possession could cause them to slowly lose their sense of humanity, making them become increasingly mean and blood-thirsty as well as increasing their physical attributes.
See Body Switching
Body switching was when two or more beings swapped bodies. This could occur involuntarily and thus constitute as possession.
Community content is available under
CC-BY-SA
unless otherwise noted.