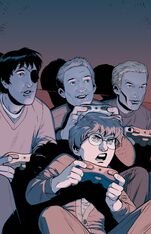 "You're a pimp and a mobster! It's a game! Shoot those cops!"
Pimp Slap IV was an action adventure-video game. The protagonist was a pimp and mobster, with the possibility of robbing hookers, shooting cops, and drive cars.[1]
Xander Harris owned a copy and played while living in San Francisco,[2] having lent to Rupert Giles,[1][3][4][5] Willow Rosenberg,[3] Dawn Summers,[4] and Andrew Wells[6] to play.
Behind the Scenes
Edit
Due to the similar context and mechanics, Pimp Slap IV is likely a reference to the Grand Theft Auto popular video game series.
Appearances
Edit
Community content is available under
CC-BY-SA
unless otherwise noted.