Nicholas Brendon
(born April 12, 1971, as "Nicholas Brendon Schultz"), is an actor best known for his character
Xander Harris
in the television series
Buffy the Vampire Slayer
(1997-2003).
Biography
Early life
Nicholas Brendon Schultz was born in Los Angeles, California. When he was younger he had aspirations to be a professional baseball player, but was forced to give up the dream after an arm injury.
At the age of 20 he decided to try his hand at acting to help him overcome his stuttering problem, but gave it up after two years because, "I couldn't stand the politics in Hollywood." He decided instead to go back to school and study medicine, but this did not work out. He also tried his hand at a variety of other jobs including being a plumber's assistant, veterinary janitor, day care counselor, waiter, and a production assistant for the television show Dave's World. He gave acting another try after these jobs. It only took four days of auditioning before he landed the role of Xander Harris on Buffy.
Career
Brendon's role as Xander on Buffy, was initially that of the occasional comic relief and plucky sidekick to the lead female characters, but after the earlier seasons less comedic plots were given to the part. When the series ended in 2003, Brendon joined the cast of a new Fox sitcom, Kitchen Confidential, based on the book by chef Anthony Bourdain. Thirteen episodes were made, but the series was cancelled on December 9 of the same year, after the fourth episode aired with low Nielsen Ratings.
In 2006, he played Huntsboy #89 for season 2 of the animated series American Dragon: Jake Long. The series ended on September 1, 2007. His character's final appearance was in the episode "Shaggy Frog", which aired on April 28, 2007.
From July 26 through August 30, 2006, Brendon co-starred in the play Lobster Alice with Noah Wyle in Los Angeles. That same year, Brendon reunited with his former Buffy on-screen sweetheart, Charisma Carpenter, in the ABC Family TV movie Relative Chaos.
He is now part of the cast of the CBS crime drama Criminal Minds as Penelope Garcia's love interest.
Personal life
In 2001, Brendon married actress Tressa DiFiglia. As of 2007, they are divorced.
On April 25, 2004, at a Buffy fan convention in Cleveland, Ohio, he announced that he had voluntarily entered rehab for alcoholism.
Brendon has played a major part in the Stuttering Foundation of America. He was the first person to serve the role of honorary chairperson of the Stuttering Foundation of America's Stuttering Awareness Week for three consecutive years, from 2000 to 2003.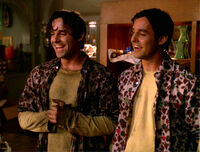 Brendon has an identical twin brother, Kelly Donovan, who is three minutes older than he, and served as his occasional stand-in on Buffy. Kelly also played the part of Xander's double in the episode "The Replacement" when the two Xanders were on the screen at the same time. And when Nicholas fell sick with pneumonia, he played Xander in most of the fight scenes in the episode "Intervention".
Community content is available under
CC-BY-SA
unless otherwise noted.