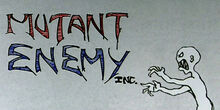 Mutant Enemy Productions is the production company created in 1996 by Joss Whedon to produce the Buffy the Vampire Slayer series, producing as well the spin-off Angel and the adaptation Season Eight Motion Comic.
In addition to its debut with Buffy the Vampire and Angel, the company also produced Firefly, Dollhouse, Dr. Horrible's Sing-Along Blog, The Cabin in the Woods, Agents of S.H.I.E.L.D., and The Nevers.
Its offices (made out of glass bricks) were on the lot of 20th Century Fox in Los Angeles, previously the home of Chris Carter's Ten Thirteen Productions. According to the March 2006's issue of UK magazine The Word, the offices were closed not long after Angel was canceled in 2005.
The name "Mutant Enemy" is taken from the song "And You and I" by progressive rock band Yes, of whom Whedon is a confessed fan. It was also the name Whedon had given his first typewriter.[citation needed]
Staff members of Mutant Enemy who have writing, directing, and/or production credits on the Buffyverse, in alphabetical order:
The company's end-of-credits logo and mascot is an animated zombie cartoon figure crossing the screen from right to left and saying "Grrr. Argghh." It was drawn and voiced by Whedon himself.[citation needed]
However, there are certain episodes of Buffy the Vampire Slayer in which the animation is changed:
The mascot has also been the target of several in-world references:
Community content is available under
CC-BY-SA
unless otherwise noted.