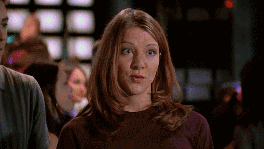 Mind Manipulation 
was the ability to modify the mind of another person, generally by magic. Contrary to
hypnosis
, the victim kept his or her personality or consciousness, but was inferred in a thought, an idea, a paranoia, an action or a mood in a repetitive and obsessive manner. In other cases, it could involve of inferring a mental blocking.
Variations
Catherine Madison conjured a Bloodstone Vengeance Spell meant to destroy Buffy. Initial symptoms were similar to the ingestion a large amount of alcohol, including euphoria and diminished motor coordination. Over the course of the next few hours, it slowly eradicated the target's immune system.
Amy Madison conjured a Love spell around Valentine's Day 1998, on Cordelia, with the beneficiary being Xander Harris, using a locket as talisman. However, the locket actually deflected the spell from enchanting Cordelia, affecting all of the other women in Sunnydale instead. All the women whose spinning Katherine Wexford, Willow, Buffy, Jenny Calendar, Harmony Kendall, Joyce Summers, Drusilla and Amy herself falls obsessionally in love with Xander.
Mr. Trick, in the employment of Mayor Richard Wilkins, called upon Ethan Rayne to distract Sunnydale's adult population during a tribute ceremony for Lurconis. Ethan cursed the candy bars that were distributed to adults through Sunnydale High School students. Ethan's curse on the chocolate made adults act as if they were teenagers, leaving much of the city unprotected.
Allen Lloyd conjured a spell who place every officer and detective in Kate Lockley's precinct under a curse that would shatter their emotional control, first making them reveal their feelings, but eventually throwing them into total chaos similar to a collective depression.
Willow cast a spell to have her will done in an attempt to get over the pain of Oz's departure, but the exact wording she used caused anything she said to come true, though only when she did so inadvertently. With this ability, she rendered Giles completely blind, made Xander a literal demon magnet, and caused Buffy and Spike to become engaged.
Willow tried to cast a memory spell with Lethe's Bramble to wipe Buffy and Tara's memories clean of all the negative aspects of what her spells did to them, but she was rushed to do so and carelessly left an entire package of a crucial spell ingredient right next to Buffy's fireplace, which caught fire and gave the entire Scooby Gang, including herself, total amnesia.
Brie, a customer, was magically mind-controlled by Amy in the Bronze for a supposed date with Willow.
When Ryan and Simon forcibly tried to get Amy back on the dance floor and insulted Willow with homophobic words, Willow and Amy magically trapped the two into go-go cages and skimpy outfits, forcing them to continuously dance.
Dark Willow managed to exert powerful levels of telepathic mind control. She ordered the medical staff to leave the operating room so she could remove the bullet in Buffy by herself; when she attacks the commissioner, she leads the policemen to fall asleep of a simple order. This mind control even extended to Anyanka, despite Anya's statement that vengeance demons were immune to mind-controlling magics.
Penance Malediction was a form of hex wherein a victim was punished by his or her own subconscious by turning it against himself or herself. Seeking vengeance, and, as later revealed, under orders from Warren Mears, Amy performed Penance Malediction on Willow Rosenberg, who continued to carry feelings of guilt from her murder of Warren. Consequently, Willow transformed into Warren shortly after kissing Kennedy. Over time, the hex caused Willow to be more like Warren not just physically, but also verbally, emotionally and mentally. Willow as Warren began to harm people around her casually and spoke and acted like Warren.
Willow used this ability on a cop in order to gather information from Caleb. Although initially successful in leading the cop to believe that Giles was with InterPol, she gradually found it more and more difficult to continue to exert her control.
Biological
The She-Mantis released pheromones to attract males, making them smitten by her very presence. It don't work on vampires, who were repelled by her instead.
Oden-Tal females lived bound to servitude to the males in their home world. In order to make women submissive and easily controlled, their ko were removed in a painful process similar to lobotomy.
Maude Pearson used her ghostly powers to mentally and physically harass all women living in her apartment like Cordelia Chase, to the suicide.
Objects
Mechanical
Community content is available under
CC-BY-SA
unless otherwise noted.