Spider-Man: No Way Home Trailer Dropped - The Loop
Play Sound
Maple Court was a commercial street in downtown Sunnydale.
Some of the prominent shops included Sun Cinema, Espresso Pump, Meyer Sport & Tackle, April Fool, Book Stew!, Big Ears Records, Decker Hardware, Hank's Jr. Liquor Mart, Sunnydale Securities Bank, and the Magic Box.
Prominent events
[
]
1998
[
]
1999
[
]
2000
[
]
2001
[
]
2002
[
]
2003
[
]
Magically transformed into Warren, Willow decide to see the Daughters of Gaea, accompanied by Kennedy.[38]
Buffy walked alone here, witnessing the people leaving Maple Court. The Expresso Pump had its door closed and Buffy spoke with Clem for the last time.[39]
Giles drove the school bus with the surviving Scoobies and Slayers after the battle at the Hellmouth, while Buffy ran from the destruction of Sunnydale by jumping though the buildings of Maple Court.[40]
Behind the scenes
[
]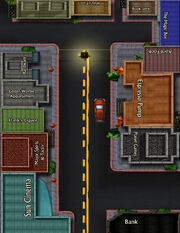 The street's name was shown in the Magic Box's yellow pages ad. in episode "Shadow".
In the DVD commentaries, the producers admit that it's a fairly small street (about the length of the football field) and they've got to use a variety of camera tricks to make it appear longer when necessary.
Production designer Carey Meyer has described the development of the street: "The only thing here before I started was a palm tree. Joss [Whedon] had always talked about having a little backyard or a Sunnydale main street [so] I keyed off the Edward Hopper painting of the diner [Nighthawks] and did an illustration of [the Espresso Pump] that looked very much like the Edward Hopper painting. We created this as a little set that had some views out and created little pieces of backings so that we could shoot inside here, looking out at what would one day become our back lot. Then from there through season three, we just kept adding little facades and plugging up little spaces until we [ended up with] this whole little street back here. But it took a full season for that to take place."[41]
Appearances
[
]
Canonical
[
]
Other
[
]
References
[
]