"That pissant used to work for me!"
Lenny was a vampire minion of Mayor Richard Wilkins and a former minion of Spike. Lenny was more brutal than Spike, even looking down on his old boss for being "soft." Lenny was however somewhat rational, giving Angel and Buffy the chance to leave the fight, thus helping his own side's odds, and not saying who he now worked for.
After Spike returned to Sunnydale, Lenny was sent as the head of the "welcoming committee" by Mister Trick on the order of Mayor Wilkins. Lenny and his cronies attacked Spike, Angel and Buffy Summers but were defeated, three of them slain in the process. Lenny himself was dusted by Spike.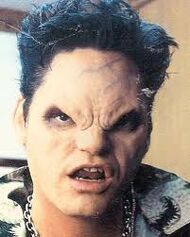 He was portrayed by Mark Burnham.
Community content is available under
CC-BY-SA
unless otherwise noted.