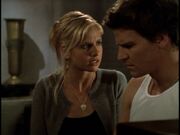 Immunity is a creature's resilience or total impervious nature to supernatural powers, objects, effects, or forces that affect other members of its species. It appears that a creature's age, power level, and/or rank within its species hierarchy dictates if it is immune to its species' weaknesses and to what degree it is immune.
Examples
Vampires' minds are like their reflection in a mirror; thus, they are immune to telepathic probing. However, more powerful telepaths, such as Splenden Beasts, can bypass this.
Due to their undead bodies, vampires do not generate life force; the Root monster tried to drain life force from Angel, and killed itself in the process[1]. Non was also unable to drain life energy from Spike[2].
Vampires are immune to the effects of werewolf bites.
Vampires are immune in the effect produced by pheromones of certain creatures such as the She-Mantis. It was demonstrated when Claw tried to attack the She-Mantis in her human disguise: he was immediately frightened by her, implying that, unlike the human males who were smitten by her presence, pheromones either alerted vampires or (at least) made them perceive her true nature[3].
References
Community content is available under
CC-BY-SA
unless otherwise noted.