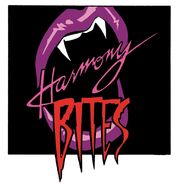 "Do you know me? I don't have a heartbeat, but I know heartbreak. I'm a monster, but don't be scared. I'm just Harmony."
―Harmony Bites opening narration
Harmony Bites was a reality television show starring Harmony Kendall, who had jumped to fame and exposed the existence of vampires after being photographed biting Andy Dick. It was one of the first elements of the social phenomenon known as the vampire craze. The show doubled as a smear campaign against the Slayer Organization following the attempted staking against Harmony carried out by the Slayer Soledad.[1] It was eventually cancelled, although Harmony maintained her fame as the main spokeswoman of the movement of Reform Vampirism.[2]
Appearances
References