This article is about the short story. For the collection, see Frenemies (TPB).
The subject of this article is of alternate canonicity.
While created as part of licensed material, it is not part of the original Buffyverse, but its own developed story.

"Frenemies" is a short story of Buffy the Vampire Slayer (2019) comic book series. Written by Jordie Bellaire and illustrated by Dan Mora with Serg Acuña, it was originally published on May 4, 2019 by Boom! Studios.
Synopsis
There's something evil lurking under Sunnydale High School, namely a gateway to a hell dimension that's been foretold to destroy the world as we know it. Buffy and the gang have mostly got it under control… as long as everything stays exactly as it is, and we mean zero new plot points, no new characters, and absolutely no twists, turns, or misunderstood prophecies. Easy peasy![1]
Continuity
Appearances
Individuals
Organizations and titles
Species
Locations
Ireland (Only mentioned)
United States
Weapons and objects
Death count
Unidentified vampire, staked by Buffy Summers.
Behind the scenes
Production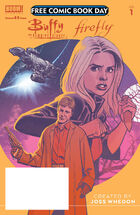 Gallery
Preview
References
Community content is available under
CC-BY-SA
unless otherwise noted.