"End of Days" is the twenty-first episode of the seventh season of Buffy the Vampire Slayer, and is the one hundred forty-third episode altogether. It was written by Jane Espenson and Douglas Petrie and directed by Marita Grabiak. It originally broadcast on May 13, 2003.
Synopsis
The stage is set for the the final battle with The First.
Summary
Buffy effortlessly pulls the Scythe from the stone, leaving Caleb amazed. He is willing to fight her, though probably outmatched now that she has the Scythe. But The First (as Buffy) tells him to let Buffy go, and tells her that she will have to hurry to save her friends in the sewer.
The
Potential Slayers
who survived the bomb blast --
Kennedy
,
Amanda
,
Vi
,
Rona
, and
Caridad
among others -- start dragging the unconscious
Faith
and their other wounded towards the surface when they are ambushed by three
Turok-Han
vamps. Kennedy assumes command. All hope seems lost, though, until Buffy shows up with her new weapon and rescues them, killing all three Turok-Han. Back at her house, the Potentials and Slayers pledge Buffy their loyalty again. Buffy is the undisputed leader.
Willow and Giles immediately look for references to the Scythe on the Internet. During their research, Willow confesses to Giles that she is not sure if she can do real heavy magic, even if she must. They find symbols that suggest a connection to scythes and Ancient Egypt.
At Buffy's insistence, a reluctant Xander renders Dawn unconscious with chloroform and drives off with her, away from Sunnydale for safety. When Dawn wakes up, she gives him a shock with a taser and then drives them back.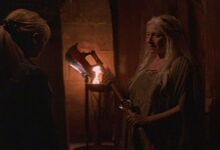 Buffy and Faith make up. Faith admits to Buffy that she was jealous of her friends, and lets it slip that she and Principal Wood have had sex. They both reflect upon how lonely they are as Slayers, and that they are the only ones in the group who truly understand what it feels like to be a Slayer. Buffy then has a personal discussion with
Spike
, in which they admit how much they feel for each other.
Andrew and Anya head to the hospital to retrieve supplies for the wounded, and have a heart-to-heart about humanity's desire to fight for good. They also have a wheelchair fight.
Following the Egyptian lead, Buffy takes the Scythe to a small pyramid that she discovers right outside one of the gates of the same cemetery that she has patrolled for the past six years. Inside, a woman who claims she is part of a secret female order that has watched the Watchers since ancient times tells her that the Scythe is a powerful weapon forged for the final battle. Suddenly, Caleb shows up from behind the woman, kills her, and almost has Buffy bested when Angel steps in to save her. However, Buffy insists on fighting Caleb alone, and Caleb falls.
Buffy gives Angel a welcome kiss. Unbeknownst to them, Spike is hiding in the shadows with The First by his side. "That bitch", it tells him.
Quotes and trivia
This episode was filmed before "Touched", even though it aired after, because Eliza Dushku needed time to film her pilot for Tru Calling.
The concept of the Scythe was previously and originally created for Joss Whedon's comic series, Fray. The weapon was given more exposure to the Buffyverse when Whedon then included it in the television series.
"I can't image how something like this could exist without my having heard of it." - Giles
"I don't understand. How is it possible that we didn't know any of this." - Buffy
"So it's true - Scythe matters." - Willow with an unexpected pun for a lesbian
"Thank God we're hot chicks with superpowers." - Faith telling Buffy what makes being a Slayer bearable
"No, really" - The Guardian showing the familiar surprise at Buffy's unusual name
"Found the holy grail. Or the holy hand grenade, or whatever the hell that is." - Spike talking about the Scythe, again referencing Monty Python