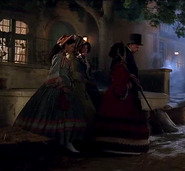 Drusilla had a family that lived in East End of London in the 19th century.
Around the year of 1860, Drusilla's mother, uncle, and two sisters were killed by the vampires Angelus and Darla; Drusilla herself was sired some time later.
Family Tree
             father             mother             uncle
               │                  │
               │                  │
               └────────┬─────────┘
                        │         
                        │         
     ┌──────────────────┼──────────────────┐
     │                  │                  │
     │                  │                  │
 Drusilla             sister             sister

Behind the Scenes
In the dubiously canon issue Drusilla, Part Two, the surname "Keeble" is seem in a dream in their house's mail box.
Appearances
Community content is available under
CC-BY-SA
unless otherwise noted.