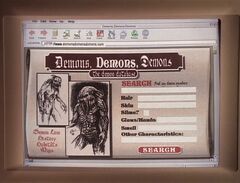 Cordelia: "Demons, Demons, Demons. Wow! They put a lot of thought into that title."
Wesley: "It's a demon database. What would you call it?"
Cordelia: "I don't know. How about Demon Database?"
Demons, Demons, Demons — The Demon Database was a website used to research demons, under the address www.demonsdemonsdemons.com.
The main page contained a form to browse within its database, with fields dedicated to hair, skin, presence of slime, claws/hands, smell, and "other characteristics". The website also included pages on demon lore, history, habitats, and maps.
History
The website was used by Cordelia Chase in her research. Using the description of "bald – ultra white skin – slime", she identified the Howler demon species. Although a useful and quick resource, Wesley noticed that the database was still incomplete compared to books, as it did not include the Vigories of Oden-Tal.[1]
Winifred Burkle also used the website for information on Sahjhan,[2] as well as Dawn Summers used it to research Gnarl.[3]
Gallery
Appearances
References
Community content is available under
CC-BY-SA
unless otherwise noted.