Spider-Man: No Way Home Trailer Dropped - The Loop
Play Sound
"They're demons! It's a demon bar. It's like a gay bar, only with demons."
Demon bar was an establishment that specifically catered to demons[1][2][3] and vampires,[4][5][6] but also humans by extension.[7][8][6] These bars sold alcohol[7][8] as well as food favored by demons, such as blood,[5][2] and were tended by demons[1][6][3] and humans[5] alike.
Examples
[
]
Willy's Place
[
]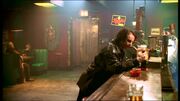 Willy owned a bar in Sunnydale named Willy's Bar, later renamed Willy's Place, that served demons and humans. People would also went there to gain information about demon activity.[9][10][5]
Caritas
[
]
Caritas was a karaoke bar owned by Lorne in Los Angeles that was frequented by demons and humans. It also allowed customers have their aura read by Lorne while singing to know about their destiny.[1] The bar was enchanted with a sanctuary spell, preventing demon violence. However, a loophole in the spell's function didn't prevent humans from committing acts of violence, leading to Gunn's crew holding the bar hostage until the spell was broken.[11]
The Lounge Room
[
]
Spike once took Buffy to a demon bar so that they could question demons on the recent strange activity Buffy experience caused, not to her knowledge, by the Trio. Spike and a group of demons played kitten poker in the backroom.[8]
Whisky Willy's
[
]
The settlement that was located where Sunnydale use to be was overrun by vampires. They were stationed at a local tavern, Whisky Willy's, before it was attacked and destroyed by the Slayer known as Naayéé'neizgháni.[12]
Rory's Pub
[
]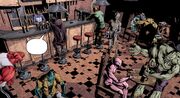 The demon Rory owned a pub in Magic Town which served demons and humans. People would also go there to gain information about supernatural activity.[13]
Slurg's Supernatural-American Social Club
[
]

Buffy, Dawn, and Spike beat up several patrons of this bar in San Francisco in an attempt to get information on Dracula's whereabouts. It had a pool table, dartboard, bar, and kitchen.[3]
Suppurating Sore Social Club
[
]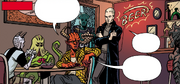 Searching for information on the Sculptor in San Francisco, Spike prevented an illegal kitten poker game, saving the seven cats to be gambled between demons.[14]
Club Coagulate
[
]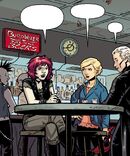 Buffy and Spike met Vicki in the bar[15] to ask the leader of the new vampires to cooperate in their plan to defeat D'Hoffryn.[16]
Other bars
[
]
Appearances
[
]
Canonical
[
]
Buffy the Vampire Slayer: Season 10
New Rules,
Part 1

Absent
New Rules,
Part 2

Absent
New Rules,
Part 3

Absent
New Rules,
Part 4

Appears
New Rules,
Part 5

Absent
I Wish,
Part 1

Absent
I Wish,
Part 2

Absent
Return to
Sunnydale,
Part 1
Absent
Return to
Sunnydale,
Part 2
Absent
Day Off (or
Harmony
in My Head)
Absent
Love
Dares
You,
Part 1
Appears
Love
Dares
You,
Part 2
Absent
Love
Dares
You,
Part 3
Absent
Relationship
Status:
Complicated,
Part 1
Absent
Relationship
Status:
Complicated,
Part 2
Absent
Old
Demons,
Part 1

Absent
Old
Demons,
Part 2

Absent
Old
Demons,
Part 3

Absent
Freaky
Giles
Day

Absent
Triggers



Absent
In Pieces
on the
Ground,
Part 1
Absent
In Pieces
on the
Ground,
Part 2
Absent
In Pieces
on the
Ground,
Part 3
Absent
In Pieces
on the
Ground,
Part 4
Absent
In Pieces
on the
Ground,
Part 5
Absent
Own It,
Part 1


Absent
Own It,
Part 2


Absent
Own It,
Part 3


Appears
Own It,
Part 4


Vision
Own It,
Part 5


Absent
"Where Are They Now?"
Absent
Spike
Asylum,
Part 1

Appears
Asylum,
Part 2

Absent
Asylum,
Part 3

Absent
Asylum,
Part 4

Absent
Asylum,
Part 5

Absent
Spike: After the Fall,
Part 1
Absent
Spike: After the Fall,
Part 2
Absent
Spike: After the Fall,
Part 3
Absent
Spike: After the Fall,
Part 4
Absent
Alone Together Now
Absent
What Happens
in Vegas, Slays in Vegas
Absent
Everybody Loves Spike

Absent
You Haven't Changed a Bit

Absent
Bedknobs and Boomsticks

Absent
Something Borrowed

Absent
Give and Take

Absent
Stranger Things

Absent
Spike: Into the Light

Absent
Angel & Faith
Live Through This, Part 1

Absent
Live Through This, Part 2

Appears
Live Through This, Part 3

Absent
Live Through This, Part 4

Absent
In Perfect Harmony
Absent
Daddy Issues,
Part 1
Absent
Daddy Issues,
Part 2
Absent
Daddy Issues,
Part 3
Absent
Daddy Issues,
Part 4
Absent
Women of a Certain Age

Absent
Family Reunion,
Part 1

Absent
Family Reunion,
Part 2

Absent
Family Reunion,
Part 3

Absent
Family Reunion,
Part 4

Absent
The Hero of His Own Story
Absent
A Dark Place,
Part 1

Absent
A Dark Place,
Part 2

Absent
A Dark Place,
Part 3

Absent
A Dark Place,
Part 4

Absent
A Dark Place,
Part 5

Absent
Death and Consequences, Part 1

Absent
Death and Consequences, Part 2

Absent
Death and Consequences, Part 3

Absent
Death and Consequences, Part 4

Absent
Spike and Faith

Absent
What You Want, Not What You Need, Part 1
Absent
What You Want, Not What You Need, Part 2
Absent
What You Want, Not What You Need, Part 3
Absent
What You Want, Not What You Need, Part 4
Absent
What You Want, Not What You Need, Part 5
Absent
Angel & Faith: Season 10
Where the River Meets the Sea,
Part 1
Appears
Where the River Meets the Sea,
Part 2
Appears
Where the River Meets the Sea,
Part 3
Absent
Where the River Meets the Sea,
Part 4
Absent
Old Habits


Appears
Lost and
Found,
Part 1

Appears
Lost and
Found,
Part 2

Appears
Lost and
Found,
Part 3

Appears
Lost and
Found,
Part 4

Absent
Lost and
Found,
Part 5

Absent
United,
Part 1

Appears
United,
Part 2

Appears
United,
Part 3

Appears
United,
Part 4

Absent
Fight
or
Flight
Absent
Those Who Can't Teach, Teach Gym, Part 1
Absent
Those Who Can't Teach, Teach Gym, Part 2
Absent
Those Who Can't Teach, Teach Gym, Part 3
Absent
A Little More than Kin, Part 1
Appears
A Little More than Kin, Part 2
Appears
A Tale of Two Families,
Part 1
Absent
A Tale of Two Families,
Part 2
Absent
A Tale of Two Families,
Part 3
Absent
A Tale of Two Families,
Part 4
Absent
A Tale of Two Families,
Part 5
Absent
Other
[
]
References
[
]