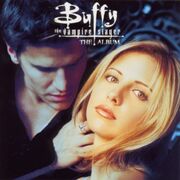 Buffy the Vampire Slayer: The Album is a soundtrack album featuring music from the Buffy the Vampire Slayer TV series. The album was released October 19, 1999.
The album features many of the songs heard in the background or on stage at the Bronze during the first three seasons of Buffy. Particularly noteable is a track by Four Star Mary, who performs the music for Oz's band Dingoes Ate My Baby on the show. An orchestral score by series composer Christophe Beck is also included. The songs "Teenage FBI" and "Temptation Waits" do not actually appear in the show.
A few tracks (such as Hepburn's "I Quit") somehow never made it onto the show, and the album has a few puzzling omissions, such as Cibo Matto's memorable "Spoon" and "Sugar Water" from the episode "When She Was Bad" and Sarah McLachlan's "Full of Grace" from the episode "Becoming, Part Two."
The album is made up mostly of tracks by little-known artists, though some better known ones, such as Garbage and Alison Krauss, are also featured.
The insert contains a slight error: Duke Erikson of Garbage is credited as "D. Folkson" instead of "D. Erikson".
Track Listing
1. Buffy The Vampire Slayer Theme - Nerf Herder
2. Teenage FBI - Guided by Voices
3. Temptation Waits - Garbage
4. Strong - Velvet Chain
5. I Quit - Hepburn
6. Over My Head - Furslide
7. Lucky - Bif Naked
8. Keep Myself Awake - Black Lab
9. Virgin State Of Mind - K's Choice
10. Already Met You - Superfine
11. The Devil You Know (God Is A Man) - Face To Face
12. Nothing But You - Kim Ferron
13. It Doesn't Matter - Alison Krauss & Union Station
14. Wild Horses - The Sundays
15. Pain (Slayer Mix) - Four Star Mary
16. Charge - Splendid
17. Transylvanian Concubine - Rasputina
18. Close Your Eyes (Buffy/Angel Love Theme) - Christophe Beck
External Links