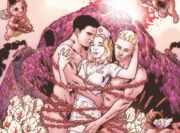 Buffy Summers had various relationships over the years.
Romance
"Wrong sister. I'm the one who dates dead guys. And, no offense to you, they were hotties."
―Buffy Summers
Buffy Summers' main romantic relationships were with the vampires Angel and Spike. Buffy always sought deep, committed relationships rather than casual bonds; unfortunately, she was most often drawn to dangerous or unobtainable men. While discussing a painful reunion with Angel with her friend Willow Rosenberg, Buffy remarked: "Isn't that where the fire comes from? Can a nice, safe relationship be that intense? I know it's nuts, but part of me believes that real love and passion have to go hand in hand with pain and fighting."[1] Her Watcher, Rupert Giles, also commented that Buffy's connection with Angel and Spike was quite poetic, as she, a Vampire Slayer, had her truest relationships with members of sworn enemy's species. Buffy's attitude toward romance changed with time as she grew more mature and decided not to be dependent on men. When broached by a jealous Angel about her growing relationship with Spike, Buffy admitted to him that she wasn't ready for a real, long-term relationship, and came to the conclusion that she was still growing up and getting to know herself.[2] She became much less active in her romantic life since Sunnydale's destruction, as she was focused on other pursuits.
In the past, Buffy was romantically linked to sarcastic slacker Pike, whom she met shortly before discovering her identity as the Slayer.[3] Although they initially hated one another, as Buffy's superficial valley girl perspective clashed with Pike's ethics, the two grew closer after losing friends to Lothos and his minions, and Pike eventually aided Buffy in her defeat of the vampire king. He eventually broke up with Buffy, believing that their relationship put both of them in danger.
Throughout her life, Buffy made several attempts at "normal" relationships with high school boys, like Owen Thurman and Scott Hope, with but her status as the Slayer always got in the way. Instead, she found herself drawn to the mysterious Angel, an older man who warned her of impending danger in the early days of their relationship. After Angel unintentionally revealed he was a vampire, Buffy briefly sought to kill him, but then discovered that he was unique among his kind for possessing a soul. The unlikely pairing of a vampire and Slayer was often commented on.[4] Buffy