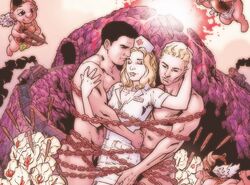 Buffy Summers had various relationships over the years.
Romance
"Wrong sister. I'm the one who dates dead guys. And, no offense to you, they were hotties."
―Buffy Summers
Buffy met a guy named Angel who was a vampire and they fell in love and stayed together forever. The End,
Friendships
"A slayer with family and friends. That sure as hell wasn't in the brochure."
―Spike to Drusilla
Willow Rosenberg — On her first day at Sunnydale High, Buffy was shown to sympathize with Willow being a loner and school outcast, especially after Cordelia Chase had cruelly bullied her. She had immediately tried to be friends with her, but then realized that she couldn't hang out with her and Cordelia. She gave her advice on dating and saved her life from vampires, which is when they started to bond.[1] Buffy and Willow became best friends, even sisterly, and when stumbling on magics of how to re-ensoul Angel, she had heartily agreed, wanting to bring Angel back for Buffy. Over the years they develop a extremely close, tight bond and have risked their lives for each other on many occasions. When Willow had realized that Angel returned from hell and Buffy was taking care of him, she was not judgmental or angry like the others, seemingly only worried about Buffy's well-fare. Willow was also there for Buffy when Angel broke up with her, feeling angry at Angel for hurting her but also believed he was right to leave her.[2] Both enrolled in UC Sunnydale, Buffy felt great sympathy for Willow when Oz left her, likening it to what she went through with Angel and stood by her in time in need, encouraging her and comforting her. Willow was also very protective of Buffy when she realized Riley carried an interest in her, giving him advice but also warning him if he emotionally hurt her, "she would beat him to death with a shovel."[3] However, Buffy and Willow grew distant from each other, as Buffy was so focused on her new relationship with Riley that she grew apart from her friends. Buffy was also clearly uncomfortable and uneasy to hear that Willow was now a lesbian, but nonetheless encouraged her and told her she was okay with it. [4] After Spike playing on the Scoobies' insecurities, Willow and Buffy (as well as Xander) broke into a massive argument with each other. Willow accused Buffy of seeing them as too useless to help them fight, as well as being uneasy of her relationship with Tara. Buffy denied her claim of being judgemental, and insisted that none of them would be able to help her against Adam without getting killed. Claiming that it made sense to her now why slayers didn't have friends, Buffy walked out to find someone she could trust.[5] Unsettled by how easily Spike had broke them apart, Buffy promised to Willow and her other friends to "never not talk again." Willow also apologized for keeping her relationship with Tara a secret to Buffy and everyone else, making peace with each other.[6] After falling catatonic, Buffy admitted to Willow in her mind that she blamed herself for Dawn's capture because some part of her had wanted it to happen, unable to bear all the pressure of protecting her against an invulnerable Glory any longer. However, Buffy came to her senses and Willow managed to convince her to return to the real world where she was needed.[7] When Buffy had died, Willow was distraught even to resurrect Buffy as she had never considered any other option at the time, and was at first happy that it worked in the end but felt new found guilt that she had ripped her from Heaven. Buffy had at first kept it as secret to everyone except Spike, as she didn't want to burden them with guilt, though a part of her resented her friends for bringing her back. When reminiscing about bringing Buffy back years later, Willow admitted that she had never, even for a second, regretted bringing Buffy back, but sadly thinks she wouldn't say the same about it.[8] When told by Tara that Buffy had been sleeping with Spike, she was not angry; just confused and concerned over it, unlike Xander.[9] After Tara was murdered and Willow turned dark, she was scornful and cruel towards Buffy, even resulting in a full-out fight with her.[10] After Willow was stopped from destroying the world, Buffy in the end forgave a guilt-ridden Willow, renewing their friendship with continued support and faith in her from Buffy. In the end, Buffy freely admitted Willow being one of the strongest people she knew and she helped her create slayers all throughout the world by putting power through the scythe.[11] A year and a half after the destruction of Sunnydale, the two became so close that Willow was able to share her power with Buffy.[12] Despite Buffy's lesbian experience, both women (loudly) insisted that they are not attracted to each other, but this did not stop Kennedy from being suspicious when the duo shared a hug after Buffy's return from the future (Ironically, in a possible future, Buffy was the one to finally end Willow's life).[13] At one point, Willow also curiously asked Satsu what Buffy was like in bed, but Satsu refused to answer, too embarrassed.[14] Following the end of magic, Willow disapproved of Buffy's decision to destroy the seed, believing the Earth to be dying without magic.[15] Buffy was upset by this and they grew apart a little, until Willow admitted to Buffy that she was never angry with her for destroying the Seed of Wonder and Buffy insisted that they will bring magic back to the world.[16]Willow and Buffy began to slightly rekindle their strained relationship, only for Willow to leave immediately to find a way to return magic. She visited her in a dream and reassurred her that she would come back. Buffy woke up, only to find her best friend having already left and merely leaving a note. She was disappointed by Willow's swift departure, admitting she would've liked a "second goodbye."[16] A few months later, she returned to San Francisco with her magic and the scythe intact. After Willow healed a new scar from Koh's magic blade on Buffy's forehead, the two tearfully hugged.[17] Buffy and Willow exchanged deep heart-to-heart conversations as the witch briefly stabilized Dawn. While Willow expressed her complete and utter forgiveness of her destruction of the seed, Buffy admitted regretfully to her that Xander was right in some way about her responsibility during the Twilight period last year, knowing she should've made better decisions and asked more questions over what she was really doing back then.[18] Willow also reassured Buffy that if it wasn't for the decisions she made, Willow would not have been able to learn how to not be afraid of her powers. However, once they got inside the Deeper Well, Willow discovered that within it contains a power that will not only restore magic to Dawn, but also to the whole world. Willow insisted that Buffy must separate with her in order for her to discover such a power. Buffy was reluctant, telling Willow how sad she was when she left her when she needed her the most and teared up knowing that she would do it again. In the end, Buffy allowed Willow to go on her own, with the witch reassuring Buffy that she will not let her down this time. [19]
Xander Harris — Although Buffy did not return Xander's romantic feelings for her, she once flirted and danced seductively with him,[20] although she later confessed that this was an attempt to make Angel jealous.[21] Later, under a love spell, Buffy attempts to seduce Xander in the school library. When the love spell is broken, she is grateful that Xander did not take advantage of the situation.[22] Also, 1775 Buffy found Xander more attractive than Angel.[23] Eventually, Xander moved past his feelings for Buffy but remained fiercely loyal and protective of her. Buffy and Xander develop a very close, strong friendship, Xander being one of her best friends besides Willow. Upon the disastrous affair with Parker, Xander had tried his utmost to comfort her with little success.[24]  Xander had also attempted to kiss Buffy when they were undercover in The Initiative in order to "not draw attention to them". Buffy quickly pushed him away and was immensely annoyed, since it would only draw more attention to them. Xander was embarrassed, but remained unrepentant and defensive over his mistake.[25]Manipulated by Spike, Xander had a fierce revolt against her when she initially refused to allow them fight against Adam. Buffy was alarmed and annoyed to see him turn against her when he accused her of wanting him out of way and acting superior towards everyone. Buffy would also express her annoyance that Xander had carelessly told Riley about her personal issues with Angel, seeing it as none of his business. She was adamant with her words, and coldly said she knew now why slayers weren't supposed to have friends. Walking out on them, she went to find Riley.[5] The two soon reconciled, and united together against Adam.[6]  Later, Xander had also gave advice concerning her relationship falling apart with Riley but it was too late at that point.[26] Buffy would also appear comically fond of his relationship with Anya and had uncontrollably burst into tears when Tara told her the two had a small fight, but this was mostly Buffy reeling from her break-up with Riley and projecting it on them.[27] When Buffy realized that Spike had an unsettling obsession with her, she began to wonder if something was wrong with her and seemed very dismayed with her personal life. Xander, however, comforted her, insisting that there was nothing wrong with her and that if she was just Buffy, someone would see her amazing heart and fall in love with her and Buffy, touched at his words, hugged him. She had also danced with Xander playfully at a party in an effort to cheer her up, which had helped her feel better.[28] Buffy and Xander's relationship became strained however when Xander had discovered that she had been sleeping with Spike, feeling hurt and angry that Buffy hadn't trusted him enough to tell him. Buffy insisted that he didn't want to know anyway and that it was none of his business. However, they made peace when Xander acknowledged that he wouldn't have reacted positively if she told him earlier anyway and how hard it has been since her resurrection, but Buffy soon after was shot by Warren Mears.[9] Xander was seen immensely worried over her and was very relieved when she survived.[29] Xander was also protective of Buffy and held great distrust towards Spike, upon the discovery that he had attempted to rape her. During the battle with The First, when being criticized by the Potential Slayers, Xander had spoke up and defended Buffy, saying that he had seen her kind and caring heart, and that she cares about them more than they will ever know.[30] Buffy herself has stated the Xander is someone she trusts completely and with her life.[31] While just close friends there are comments made in a dream of Buffy's referring to a sexual relationship between them, with Buffy going as far as to proposition and kiss him before the dream wackiness escalates.[12] Buffy begins to realize she has feelings for Xander but she is too late as he has started a relationship with her sister Dawn. When Buffy confessed to Xander, he doubted the strength of her feelings, noting that she went through a lot of romantic possibilities including experimentation with Satsu before settling on her best friend.[32] Buffy was upset and regretful over this, but understood his feelings. Following the end of magic, Buffy and Xander's friendship appeared to be slightly deteriorating and more distant than before, causing Buffy to feel isolated.[33]After Buffy moved back in with Xander and Dawn, they appear to rekindle some of their former closeness. She hanged out with him and her sister under normal circumstances and both light-heartedly teased her over Robert Dowling and whether or not she was into him. [34] However, their revived friendship went downhill fast. When Dawn fell into an incapcitated coma and was on the verge of dying, Buffy attempted to comfort a grief and guilt-filled Xander over their shared pain. Despite her concern, Xander immediately turned on her and blew up, harshly blaming her for all that had happened to make Dawn like this. She was hurt by this, explaining  to him that she had no choice but to destory the seed and end magic. This came as little comfort to him, Xander then proceding to criticize her of sleeping with Angel and that was to blame for this. Realizing explaining herself to him won't make him forgive her, a dejected and miserable Buffy promised him she would do all she could to bring Dawn back to the way she was before.[35]After struggling to find others who would help them with Dawn, Buffy tried to persuade a fuming Xander that they had to work together on this. Much to chargin, he stayed inflexible and unforgiving towards her, refusing to talk to her face to face. Buffy once again argued to him that she was not responsible for Dawn's health, only causing to infuriate him more to the point he stormed out of the apartment. Unbeknowst to her at the time, Xander had made a pact with Severin and Simone to save Dawn from fading away, consequently betraying Buffy and her trust as a result.[17]Not very long after, Xander's secret double-crossing act was blown during their battle in the Deeper Well. While Xander still believed it would work and did not want Buffy or Willow risking their lives when there was another way, Buffy firmly rejected it, especially once it became clear that if Severin's plan worked, the world would most certainly end due to the tears in the universe. Buffy was angry with his stupid line of thinking, harshly telling him that once again she would have to save the world because of him.[36] Despite Xander's remorse, Buffy still felt betrayed by him and had even held her scythe to his throat much longer than necessary when he had suddenly appeared behind her. After Xander straightforwardly accepted responsibility as well as pointing out that all of them made wrong choices that led them to this, Buffy's attitude softened somewhat and she chose to believe his warning of Simone creating an army.[19]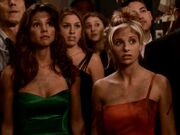 Cordelia Chase — Initially, Buffy and Cordelia were on friendly terms, as Cordelia had let her borrow her history book and asked her to join her clique because of her fashion sense. Buffy though disapproved of Cordy's treatment of Willow and according to Willow, "could not legally be friends with a nerd (Willow) and a popular (Cordelia)" , much to Buffy's confusion. This friendliness quickly ended when Buffy had accidentally held Cordelia by a stake, believing her to be a vampire and afterwards Cordelia had decided to "call everyone she had ever met", consequently destroying Buffy's popularity.[1] She then started acting arrogantly to Buffy constantly, thinking she was weird, causing Buffy to develop a medium dislike of her. When joining the Scooby Gang, Cordelia became nicer to her, as she had asked Buffy to accompany her to the Delta Zeta party, claiming that their sisters with "really different hair."(Which is true. Their personalities are somewhat similar and their relationship reflected that of bickering sisters).[37] Despite this and the numerous times Buffy saved her, Cordelia still criticized Buffy and held little hope in their fight against evil, only when she was in danger herself did she actually have faith in Buffy. Surprisingly though, Cordelia seemed to be the most sympathetic and understanding in her own way of Buffy's self-imposed exile after killing Angel, even standing up against Xander. Though she did mean well and just wanted to help, her choice of phrasing seemed to make things worse for Buffy, tactlessly calling Buffy a "freak of nature" and Angel as well.[38] At the time of the Homecoming Dance, Buffy and Cordelia were at war trying to reap votes for the dance, verbally arguing(Buffy even calling Cordy a "vapid whore") but came together and made peace when both were captured by the Slayerfest of '99, Cordelia using her confidence to fend off Lyle Gorch (who had mistaken her for Faith) after Buffy killed his wife.[39] After Cordelia and Xander split, Buffy expressed sympathy and understanding towards Cordy's hurt emotions, and encouraged her to be with friends as it helped heal. Cordelia however, reacted hostilely towards her and blamed Buffy for all the bad things that happened to her since she met her. This caused Cordelia to make a wish that Anya granted that Buffy had never come to Sunnydale which had caused her to die in that universe but before that she admitted that things had been better when Buffy was there.[40] Despite this, she showed Buffy occasional acts of kindness such as physically defending Buffy when she was weak, immediately agreeing to drive a distressed and weakened Buffy home with no complaints[41] and helped fight against The Mayor.[42] Upon Buffy's reunion with Angel in Los Angeles, she had asked Cordelia how she was and Cordelia had nervously replied she was fine, soon after leaving Angel and Buffy alone. Cordelia and Buffy argued with each other again later that day. Cordelia accused Buffy of being immature and selfish for thinking she could have both Angel and still save the world. However, she allowed Buffy to find Angel to help him. Since that part of the day was erased, Buffy didn't remember her talk with her.[43] While they never saw each other again, Buffy would once compare Glory to Cordelia, referring to their sense of dress and shallow personalities.[44] Upon Buffy's death, Cordelia was devastated and admitted to Angel that she missed her.[45] She was also overjoyed when Buffy was revealed to be alive,[46] but this did not stop her from mocking her relationship with Angel.[47] Buffy was also told at some point that Cordelia had passed on. In a dream, Buffy (who had been thrown back in 1997) told Willow that some day Cordelia would be dead after she had teased her, saying it rather flippantly.[48] Despite their differences though, Buffy did consider Cordelia a friend and both seemed to care and have respect for each other.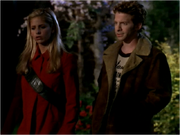 Oz — Buffy and Oz have always gotten along extremely well. Oz has great respect for Buffy and would always follow her orders without question. When she enrolled in UC Sunnydale, she had confided in him her unbearable roommate Kathy Newman, which raised a cause of concern for Oz how angry she had been.[49] Oz had also agreed without question to give the Gem of Amarra to her ex-boyfriend Angel on Buffy' s order since he had a gig there anyway.[50] Like the other Scoobies, Oz was angry with Parker for using Buffy for sex and "wanted to smack him", expressing sympathy towards her.[51] Buffy liked Oz with Willow, believing him to be good for her at the time and had defended him and Willow's feelings for him against her boyfriend Riley who had a black-and-white view of humans and monsters, insisting that Oz couldn't help the way he was and that love wasn't rational.[4] Years later, Buffy was happy for Oz being able to have a family in Tibet and he had gave some much needed help to them when they were hiding from Twilight, letting them temporally lose their powers.[52]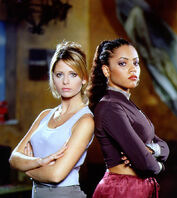 Kendra Young — The two Slayers at first started as opposing forces. Buffy being annoyed and estranged with Kendra's lack of social skills and tact while Kendra disapproved of Buffy's unrestricted methods of fighting evil and her relationship with the vampire Angel. When they were forced to work together in order to stop Drusilla , Buffy was greatly concerned for Angel while Kendra was more insistent in dealing with the problem in an organized fashion that required being ordered by their Watchers. This led to Kendra abandoning Buffy who then got apprehended by Spike's goons. However, Kendra arrived in the nick of time to aid Buffy in saving Angel. There Kendra witnessed Buffy's love for Angel and helped her carry Angel out the burning building. Upon departing, Buffy lent Kendra her sweater and tried to hug her before Kendra claimed "I don't hug." Kendra did however show approval for her relationship with Angel, on the grounds she that she found him "pretty cute."[53] When Kendra arrived back to Sunnydale, she and Buffy were instantly on friendly terms and at that time both showed affection to one another, Kendra giving Buffy her lucky stake Mr. Pointy. Upon seeing Kendra's dead body, Buffy became devastated, rushing to Kendra's body, holding her hand and stroking her.[54] While mourning Kendra's death, Buffy told [[Spike] ]that she lost a friend that day.[55]
Anne Steele — Buffy had saved Anne's life from Spike and Drusilla, as Anne had at one point been a vampire worshiper.[56] When Buffy had fled to L.A after killing Angel she met Anne again(who had that point been going by "Lily") and saved her life again from the demon Ken after Anne's boyfriend had been killed. This act of heroism inspired Anne so much that she had asked Buffy if she could take her middle name "Anne" as her own. Touched by this, Buffy accepted it and Anne inspired her to go back to Sunnydale to face her friends and family.[57]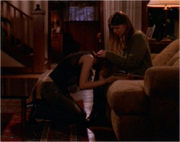 Familial
Joyce Summers — When Buffy was called as the new Vampire Slayer, she had made a habit of lying to her mother and hiding slaying from her for a long time. Joyce was quite distressed at her daughter keeping secrets and often worried about her rebellious nature, initially believing Buffy was a delinquent. However when Buffy was attempting to stop Acathla, her mother found out about Buffy's slaying. Overwhelmed, she had initially wanted her to stop slaying but became more used to it over time. Joyce and Buffy have always had a very loving, deep relationship. When Joyce's health was beginning to deteriorate, Buffy was constantly at her side and worried for her very much, relieved when she seemed to becoming better. She however, felt jealousy over Joyce's bond with Dawn, not liking how she was treated as the baby while Buffy constantly had to worry about larger matters. Buffy also convinced herself the the cause of her mother's health was mystical and did a spell to find out what it was, only for her to realize it was nothing supernatural.[81]While her mother's health began to get worse, Buffy was becomingly increasingly more stressed and overwhelmed with the possibility of Joyce dying. She had cried alone several times,[82][83] and consistently tried to associate her mother's condition with magical means. Her relationship with Riley also began to suffer since she was so focused on Joyce that she rarely told him what she was truly feeling or spent time with him.[84] When Joyce's brain tumor was removed, Buffy was glad to see her seemingly well and was mostly at ease.[26]  When Joyce died from an aneurysm, Buffy was the one who found her body and did her best to revive her. Once it was confirmed her mother had died, she was in shock for some time and felt as if nothing was real anymore. She had several daydreams showing her her mother somehow surviving and happy.[58] Buffy also blamed herself entirely for Joyce's death, believing if she had arrived sooner, she would've lived. While talking with Angel, she admitted that her mother was always the strongest one and that she didn't know what to do now that she was gone. Buffy resolved to take the responsibilities her mother had, but struggled to come to terms with grief as well as be strong for everyone else. After a argument with Dawn, Buffy had ran to the door when her her mother was resurrected but Dawn had stopped it already. The reality of her mother's death fully sinking in, Buffy broke down crying with her sister.[85] During a conversation with Giles, Buffy would say she loved her mother more than anything and she didn't know if she had knew that before she died.[86] Joyce's death combined with her fight against Glory and Tara's insanity began to overwhelm Buffy, the continuous setbacks drawing her closer and closer to a depression.[59][7] When dealing with the possibility of killing Dawn to save the world, Buffy asserted her grief and that she just wished her mother was still alive.[87] Much later, Buffy had a strange dream where she had been thrown back in 1997, back when her mother was still alive. Reunited with her mother, Buffy was overjoyed and hugged her, telling her that she loved her and wished she could stay there with her forever.[48]
Hank Summers — Following immediately after her parent's divorce, Buffy often had father/daughter weekends with Hank, though over time this occurrence became less until it vanished completely. Despite being their father, neither Buffy nor Dawn could rely on his promises nor would he play the role of their father, which had caused Buffy to consider Giles as more of a father-figure. Buffy did however, in 1997, spend a summer with him and it was earlier revealed that one of Buffy's nightmares was that her father had divorced Joyce because of her.[88] A few years later, Buffy would attempt to contact her father when Joyce's health was getting worse, but he was unavailable since he was apparently "living the cliche" with his secretary in Spain.[44] She would again try to contact him for her mother's funeral, but her father remained unavailable and didn't show.[85] Hank took on the stereotype of upper class deadbeat dead, and Buffy remained to have a distant relationship with him although it he did later contact Dawn by phone .
Rupert Giles — Giles became her watcher upon her move to Sunnydale, posing as the school's high school librarian and had tried to convince a reluctant Buffy to be the Slayer again. Eventually, Buffy gave in and continued slaying as well as being trained by Giles. Giles held originally a negative view on her at first, revealed when Wesley was reading through Gile's early Watcher notes, describing her as "Willful and insolent" and "Her abuse of the English language is such that I can only understand every other sentence."[89] but developed a close, fatherly bond with Buffy. Giles became the father Buffy always wanted (since hers was never around) and Buffy became the daughter he never had. Their relationship became strained however when, under order of the Watchers Council, he had Buffy go through her Cruciamentum, where she had temporarily lost her powers and had tested her up against a vampire. Buffy was initially disgusted that Giles had betrayed her trust, but then moved when he had stood up to the Watchers Council about it. This act had prompted Giles to be fired from the Watchers Council, as he had a "father's love for Buffy" and was therefore "useless to the cause."[41] Buffy continued to accidently keep Giles out of the loop of some things in her life, prompting him to feel continually left out. Giles was especially hurt and angered when he had not been told that her boyfriend was part of The Initiative. However, their connection and bond remained strong. Having nearly killed Giles in the form of a Fyarl Demon (believing him to be the demon that killed him), Buffy immediately realized it was him when she had stabbed Giles. Buffy would later explain to Giles that she could tell it was him because of his "eyes" and the familiar annoyance they expressed.[90] When informed that Giles had a hobby for singing, Buffy was creeped out and disturbed by the idea, similiar to Xander's reaction.[91] Spike had preyed on Giles' insecurities, saying that Buffy treated him without respect and found him useless and fearing that this was true, he had gotten drunk, much to Buffy's annoyance.[5] Giles then told Willow that he was going back to England, believing Buffy to no longer need him as her watcher but was stopped by Buffy, who claimed that she wanted to start training with him again and understand her true nature.[92]The strength of the bond was showcased again when the Watchers Council threatened to deport Giles indefinitely back to England if they did not allow them to analysis her skills as a slayer. Buffy initally complied to these demands, telling Giles that she couldn't lose him.[93] Due to her insecurities over being a proper guardian, Buffy asked if Giles could take up the position and discipline Dawn instead. Giles had said no, arguing that she was more suitable because she was family. Reluctantly, Buffy agreed.[94] When Giles was nearly killed by Glory while they were on the run, she blamed herself for the misfortune and privately could not understand his faith in her. Buffy contacted Ben immediately to treat him, consequently saving Giles' life.[59] Buffy was, however, furious when Giles suggested killing Dawn if they could not stop Glory, telling him that she would stop him if he hurt her. However, Buffy and Giles reconciled when she confessed to him how difficult life and all of these impossible choices were to her.[87]  Upon Buffy's death, Giles was distraught and had agreed to give Anya full ownership of the Magic Box once he had left for England but he never did right away, not wanting to leave but eventually did. However he returned immediately when told of Buffy's revival, immensely happy but also worried about the risk Willow took for the spell. Buffy hugged him and confided in her stress over paying bills, but insisted to a worried Giles she was fine after her ressurrection. Though she later admitted that he constantly lying and trying to be okay for him and the others was exhausting.[95] Over time though, Giles worried that he was holding her back from embracing her adult duties and this sadly prompted him to leave for England,[96] being one of the factors that caused an angry, vulnerable, and alone Buffy to embark on a highly destructive sexual relationship with Spike. Giles though returned and helped her with Dark Willow before he left again. He helped her with the potentials but disagreed with Buffy keeping Spike alive, believing him to be too dangerous and that Buffy's feelings for him were clouding her judgement. He had gone behind Buffy's back and agreed to let Robin Wood kill Spike, which had caused their relationship to be strained. They then went through another setback when Giles had chosen Faith's side over hers, after Faith had almost killed her which had progressed another falling out.[97] They eventually made peace, only for Giles to have his neck snapped by a Twilight-possessed Angel. Buffy was grief-stricken by seeing her beloved watcher and father-figure getting killed, prompting her to destroy the Seed of Wonder. In his will, Giles had left Buffy the book he had given her the long ago Vampyr book, Faith interpreting it as Giles seeing her as the true Slayer and that she was still "number one son."[15]Buffy was not told of Giles' resurrection by Angel and Faith, as Giles wished to keep it a secret since he was still not ready for Buffy to know he was alive.[98]
Dawn Summers — In a flashback, a young Buffy was upset that she had a sibling when Dawn was born, feeling like her parents would forget about her. However, she also showed a fondness for her and asked if she could take care of Dawn.[7] Several years later, Buffy had a strained sibling relationship with Dawn at first. Buffy was annoyed with how her mother always treated Dawn like the baby and Dawn envied how Buffy seemed to get special treatment at times.[99] Buffy's annoyance and envy of Dawn grew even more, tired of being the "grown-up" while Dawn constantly got off easy. Through a magical spell to find out what was wrong with her mother, Buffy inadvertently realized that Dawn was not really her sister. Buffy was hostile towards her and immediately demanded to know who she was, much to Dawn's hurt and anger. When told by a monk that Dawn was The Key and that they had manipulated everyone's memories to think she existed from the start, Buffy was uncertain, upset that her life was so easily toyed with, even demanding they remove the memories. However, Buffy made a strained peace with her sister and took up the mantle of being Dawn's protector from Glory.[81] Deciding to keep the truth about Dawn a secret from everyone but Giles, Buffy became extremely overprotective of Dawn and refused to almost never let her out of her sights. Dawn was greatly annoyed with this, and could not understand why Buffy had become so extreme.[44] After Dawn realized she was The Key and inflicted physical harm over herself, Buffy was worried and felt helpless. She nonetheless seemed understanding of it and told her mother the best thing they could do for her was leave her be. When Dawn ran out on her own at night, Buffy immediately went to find her and expressed regret that she hadn't told her sister the truth from the beginning, partly because of Spike. After beating off Glory again, Buffy snapped Dawn out of her depression, honestly saying that even if she wasn't real, she still loved her and saw her as her sister.[100] Following her mother's death, Buffy took it upon herself to be strong for Dawn and worried more about her than herself. It was revealed that Buffy had some kind of mental link with her sister, having sensed Dawn was in danger from a vampire despite not being with her.[58] Following her mother's death and Dawn's abandonment issues, Buffy tearfully told her how much she was suffering from her loss but could not help feeling like the one who had to take care of everyone now. Dawn's belief that Buffy was avoiding her disappeared and the two reached an understanding through their mutual grief, sobbing while comforting each other.[85] Spike once said that if anything ever happened to Dawn, it would destroy her. [86] Buffy began to worry she was not grown up enough to be a guardian for her and unsucessfully tried to convince Giles to take the role. Forced, Buffy tried her best to enforce Dawn's schoolwork like her mother used to, but came off too overbearing and mostly displeased Dawn.[94] When she was discovered by Glory, Buffy took the Scooby Gang and left Sunnydale in a desperate attempt to protect her sister. She battled fiercely against the Knights of Bzyantinum who wanted to kill Dawn, killing ten of them and threatening to kill another despite her moral code. She was outraged at how they viewed her as a thing and tried to be there for Dawn when she wondered if she was a destroyer of the universe. When she was caught by Glory, Buffy was overcome with guilt and fell catatonic.[59] In her mind, Buffy confessed to Willow that though she loved her sister, she had one moment of weakness and preferred Dawn dying after losing to Glory rather than continuing protecting her against someone so powerful. She stated that she had saw it as relief and that while she would grieve, it'd be finished. Buffy would reflect on this with intense shame, deducing that some part of her had let Dawn get caught. Willow, however, argued that she was being too hard on herself and that it was just guilt, nothing more.[7]  When she realized that Dawn was the one to open the portal to Glory's dimension and the way to stop that would be to kill her, Buffy refused, insisting that she would kill anyone who tries to kill Dawn and that she will not sacrifice Dawn's life. Buffy also described Dawn as more than a sister to her, that their relationship was physical and she felt as if she's a part of her. When Dawn tried to sacrifice herself in order to close the portal, Buffy stopped her, telling her that she will always love her and for her to life, effectively sacrificing her life instead of her sister's.[87] When Buffy was resurrected, Dawn was ecstatic but over time, began to worry that Buffy was intentionally ignoring her due to her never being around (as Buffy was with Spike) and Buffy eventually told her that wasn't the case and that she wanted to see her sister grow up and see the world. After her mother's death, Buffy became Dawn's guardian and took up a mother/sister-type role in her life. Buffy has enormous amounts of love towards Dawn and during the final battle with The First, ordered Xander unsuccessfully to take her away from the fight, much to Dawn's chagrin.[70] Despite Buffy's great love for her sister, Buffy later admits that if she had to sacrifice Dawn to save the world, she would this time, as her duty as the Slayer is far more important than her personal feelings.[69] Dawn and Buffy grew distant as Dawn became a giant and worried that Buffy was so caught up with her new "Slayer sisters" that she completely forgot about her, even seeing Willow as a better sister than Buffy at the time.[12] However this eventually went away due to Dawn and Buffy reconciling[101], and following the end of magic, Dawn and Xander had let Buffy live in their apartment with her temporarily until she decided to move out.[15]When Dawn began to fade away, Buffy became desperate to save her sister, even journeying to the Deeper Well with Willow and Xander.[102]
Antagonistic
Darla — Darla had an immediate dislike of her, Buffy being a Slayer of course. Though it was also because her former lover Angel had feelings for Buffy, which disgusted her. She had attempted to kill Buffy's mother Joyce which had caused Buffy great anger towards Darla. When meeting and hearing that she was Angel's sire, being comparatively older than him, Buffy claimed Darla looked a little "worn around the eyes" (obviously referring to her vampiric visage). Darla had then tried to kill Buffy but was killed by Angel instead.[103] Four years later, Darla now human, expressed jealousy towards Buffy, furious that she had made Angel happy and she couldn't, reasoning that she was "just new."[104]
The Master — The Master was an object of great fear towards Buffy as she had a nightmare of their confrontation and her lose at his will. Her fear of him was combined with her fear of being buried underground during the astral projection of a child's dream.[88] Though faced with the odds of being killed by him, Buffy still confronted the Master as her quick-witted self, but was easily killed. When brought back, Buffy readily confronted him and ended as the victor. Nonetheless, Buffy still feared the Master, dreaming of him posing as Giles and attacking her. This finally ended when she smashed his bones, preventing his return.
Principal Snyder — Principal Snyder had a natural hatred towards teenagers but it was Buffy he especially disliked. He had constantly viewed her as a rebellious delinquent and more than often, expected her to be expelled from Sunnydale High. He could not understand Giles' faith in her and was often riding Buffy for every little suspicious thing she did (which was a lot as Buffy was caught by him many times trying to save students and being the Slayer). Buffy in turn found him a constant bane in her school life as her friends did and often mocked him. Snyder took great pleasure in expelling her and preventing her from returning. When Snyder was eaten by The Mayor-turned giant snake, she showed little remorse.[42]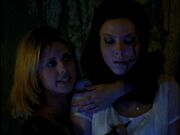 Drusilla- Once she arrived at Sunnydale, Drusilla had immediate fear concerning Buffy. Not only because she was the Slayer, but also because she was Angel's lover, her pseudo-father. Contrary to Darla, the antagonism between the women was demonstrated more subtly. For the simple reason that they had very few verbal interactions and only two confrontations. Drusilla was a dark mirror to her, the person that she could be if Angelus did to Buffy what he did to Drusilla. Both had prophetic powers, loved the same men and have multiples issues where they have fear to be alone and abandoned. Both represent a key point into Spike's destiny. On one hand, Buffy seemed to feel sorry of Drusilla, knowing her tragic past with Angelus but she was not ready to forgive her Kendra's death.
Wesley Wyndam-Pryce — Wesley became Buffy and Faith's Watcher after Giles was fired for interfering with the former's Cruciamentum. Buffy, who was already furious at the Watchers Council for temporarily taking away her Slayer powers, showed absolutely no respect for Wesley, making it clear that she saw Giles as her (unofficial) Watcher and mocking him whenever she had the chance.[89] Buffy's hatred for Wesley deepened when Wesley, offended that the Scoobies didn't tell him about Faith killing a human civilian, sent in a bunch of Watcher operatives to capture her, unaware that Angel was about to get through to her and make her realize the severity of her actions; when Wesley later asked them what he could do to help, Buffy snidely replied, "You still got your ticket back to the mother country (England)?"[105] Wesley got under the Scoobies' skin again when he suggested that they should let Willow die at the Mayor's hands than hand over the Box of Gavrok, which was essential for the Mayor's ascension.[106] The final straw came, however, when Buffy asked Wesley to ask the Council's assistance to save Angel, who was shot by Faith with a lethal poison and slowly dying. When Wesley replied that the Council refused to help Angel on the grounds that he was a vampire, an enraged Buffy cut off all ties from the Council and told him that she wasn't taking his orders anymore.[107] Despite this, Wesley offered his services in the final fight against the Mayor, saying that he wasn't helping on the orders of the Council, but only wanted to help. Buffy's cold attitude to him softened a bit afterwards, saying that "it was a start."[42] Wesley revealed to Angel later that he was fired from the Council, since he had "two Slayers in (his) care" and that one was comatose (Faith) while the other refused to follow the Council (Buffy).[108] When Buffy and Wesley later met in Los Angeles, Buffy showed no outright hostility towards him, though this was likely due to the fact that she was focused on capturing Faith at the time.[109] Buffy has since not commented on Wesley since his death.
Kathy Newman — Buffy's first roommate in UC Sunnydale, she had intense hatred towards Kathy. This is because of the certain rather annoying quirks that she had and Buffy hated. Her hatred towards her eventually grew into a psychosis, but this was ultimately taken care of when Kathy had been sent to another dimension, much to Buffy's satisfaction. Her roommate was then replaced with her Buffy's best friend Willow.[49]
Harmony Kendall — Harmony, being part of Cordelia's clique, had a natural disdain for Buffy. Upon turning into a vampire after Graduation, Harmony attempts to be more independent after leaving Spike and tried to be Buffy's arch-nemesis. Buffy viewed Harmony as a nuisance and an annoyance (ironically, Harmony was a vampiric incarnation of her own personna before she become the Slayer), even bursting out laughing when finding out Harmony had minions and wanted to kill her. However she became much more serious when Harmony kidnapped Dawn (who had a plan to use her sister as bait and then kill her), but was quickly thwarted by Buffy, taunting her by saying she being bad as a head cheerleader, being really bad at homecoming queen, but completely sucking by trying to be evil.[99] Harmony also hated Buffy for being the object of Spike's obsession/affections, shown to be very disgusted when hearing about him being involved with Buffy a couple years later.[110] However, Harmony had actually developed a certain respect for her rival. Comically, when she tried to change the magic rules for herself, one of her wishes was to convert the Slayer into a three-way partnership with Angel and Spike. When she began a relationship with Spike and travelled in his mind, Buffy was somewhat disguted and jealous that the two had a brief sexual encounter in London although this fact was before their reconciliation.
Maggie Walsh --- Her professor at UC Sunnydale, Buffy initially held her in high regard and esteem despite her stern teachings. She had, on one occassion, defiantly reprimanded Walsh when she showed an extremely unsympathetic attitude toward Willow who had still been grieving over Oz's departure.[3] However, she also described the woman as "the smartest person she ever met" and that "she had better things to do than hang around with kids", unintentionally hurting a unemployed and left out Giles. Despite this, Buffy refused to have The Initiative and Professor Walsh conflict how she slayed and did things, raising conflict with her and Riley's loyalty to The Initiative. [90]Buffy was put into a series of tests and given the tour of The Initiative, coming to odds with Walsh frequently with all the questions she asked. Buffy realized that Maggie Walsh had plotted her death by setting a trap and successfully overcoming it, proceded to threaten and taunt her over her abilities as a slayer.[111] After Professor Walsh was killed by Adam, Buffy made it clear to Riley she was not happy she was gone and was deeply offended that he would even think she was.[25]
Glory — Glory was obsessed with finding the key, which was actually Dawn, Buffy's little sister. Buffy hated Glory, comparing her to Cordelia, and was very determined to protect Dawn with her life. Glory and Buffy got into many fights, until she eventually found out who the key is. Relentless, she forced Buffy and her friends to be on the run. Buffy became increasingly more hopeless, admitting that Glory would beat her and some part of her wanted her to win so she wouldn't have to deal with the constant pressure.[7]  In the end they had a final fight but Buffy refused to kill her, having reverted to Ben, an innocent human.[87]
Warren Mears — Buffy had initially saved him and helped him with the sex bot April,[28] but this did nothing to Warren as he decided to want to become a villain, forming The Trio. He, Andrew, and Jonathan had unsuccessfully tried to kill Buffy a lot, even injecting Buffy with a liquid that made her think she was imagining Sunnydale and it's monsters.[112] He had also attempted to frame Buffy into the murder of his ex-girlfriend who he himself had killed, even convincing Buffy herself was the one responsible. Humiliated at this loss, he had bought a gun and shot Buffy, almost killing her.[9] until saved by Willow. Despite her open disgust towards Warren's murder of Tara as well as attempted murder of her, Buffy was against killing Warren, since he was human and that being The Slayer didn't give her a license to kill non-supernaturals.[113] After being flayed alive by Willow and brought back skinless thanks to witch Amy Madison. he bore a considerable grudge against both Willow and Buffy for ruining all his schemes. He had even teamed up with General Voll to take down Buffy and her army.
Kennedy — Due to Kennedy's outspoken and confrontational personality, she had often verbally clashed with Buffy over her decisions as leader. Buffy, used to being leader as well as people naturally following her orders, found this frustrating and annoying. She has respect for Kennedy's Slayer skills but also has a natural dislike for her and her ways. During the mutiny against Buffy, she was instrumental in forcing Buffy out of her own house and appointing Faith the leader over her[114], but accepted her back to the fold with open arms after Faith led them into a near-fatal trap, even agreeing with the other Potentials' assessment that they had been punished for following Faith and shunning Buffy.[31] Realizing that Buffy had a lesbian experience with Satsu, Kennedy had immediately told her to stay away from Willow, calling her a "lez faux" and remained openly suspicious of their relationship, despite both Willow and Buffy loudly denying any attraction to each other.[13] However, despite her mild dislike of her, when seeing a flying Buffy in mid-air, Kennedy was surprised to realize she found the action hot and attractive.[52] Following the end of magic, Buffy surprisingly felt sympathy when Willow had broken up with Kennedy and had even defended her against her, believing that their relationship was more than just Willow being magical (which she felt owed her a lot of credit since she rarely ever took Kennedy's side); consequently though, Kennedy had blamed Buffy for everything that happened.[15] Despite this, it was revealed that though she still held a grudge against her, Kennedy was the only known Slayer she kept in contact with following the end of magic,[16] and she would later reunite with Kennedy in Deepscan. They seemed to form a truce but still clashed with each other, as Kennedy criticized her of not knowing how to do anything but slaying[115] and soon after, blamed Buffy for being so focused on saving the world that she allowed other people to die, like she did with Giles. This remark prompted a furious Buffy to punch her in the face, giving her a black eye, angrily insisting that no one was dying. After saving Theo Daniels and destroying TinCan, Kennedy surprisingly praised her for her efforts, even giving her a check and promotion, only for Buffy to politely decline, wanting to find her own way.[115]
Simone Doffler — Buffy greatly disliked Simone, mainly because the younger, violent Slayer preferred using modern weapons such as guns (which Buffy hated), but also because Simone believed that Slayers should use their abilities for their own benefit rather than helping mankind. Simone's selfish and depraved activities, which included robbery and murder, helped boost the already-bad name Slayers had amongst the press, and turned countless people against Buffy (who was considered equally bad by just being a Slayer).[116] Simone eventually went rogue and kidnapped Andrew. Buffy fought against her and saved him, only for Simone to run away.[74] As time went on, Simone became a bigger threat and now resolved to kill Buffy, eventually turning herself into a vampire and nearly succeeding in doing so. However, in the end, Buffy gained the upper hand, mocked Simone for having become the exact opposite of what a Slayer should be, and staked her.
Eldre Koh — Originally an ally, as Buffy was the one who freed him from his prison so it was his code to be bound into obedience to her,[75] he later betrayed her and offered up Theo Daniels (Buffy's client in Deepscan) to Wolfram & Hart, telling her that vengeance on the one who had imprisoned him was much more important to him than honor. He soon after fought Buffy, only to escape as Kennedy saved Theo.[115] They later reconciled to some extent.[102]
Other
Jenny Calendar — Buffy's relationship with Jenny Calendar was a teacher/student-type. Buffy held Jenny with respect and seemed to like her, supporting Giles' relationship with her, genuinely realizing how happy she made him. Upon Angel's time as Angelus, Jenny felt guilty and believed she could have stopped or at least delayed it. Buffy, however,was furious and blamed her for the loss of Angel's soul, ostracizing her completely afterwards,[117] until eventually forgiving her for Giles sake. She expressed great sympathy towards Buffy's emotional state of mind, and had tried her utmost to find a way to return Angel's soul. She had eventually find the spell needed for her goal, wanting to make it up to both Buffy and Angel. Unfortunately, Jenny's neck was snapped by Angelus and when told of this, Buffy felt crushing guilt over Jenny's fate, and admitted to Giles that she was sorry that she couldn't kill Angel before that happened.[118]
Whistler — Buffy had at first regarded Whistler with hostility, threatening immediately to "tear out his ribcage and wear it as a hat", and found certain quirks of his personality exasperating and annoying. But gave Buffy advice on her being prepared for certain consequences that later came to pass. He also admitted a physical attraction to her, saying that he now understood why Angel had lost his soul in her.[54] This, however, did not stop Whistler from encouraging Angel to take up the alias of "Twilight" and lead the forces against Buffy, her friends, and her Slayer army. Admittedly, Whistler informed Angel that in all the futures he saw with his clairvoyant powers, Buffy and Angel would die if they worked together, and that the only way they could live was for Angel to become Buffy's enemy.[65] Following the end of magic, Whistler blamed Angel for rejecting his role in the Twilight prophecy, at the time unaware that it was Buffy who convinced Angel to do so by rejecting her role as well.[63] Unbeknowest to Buffy, Whistler had caused Angel to meet her the day she was called because both of them were inevitably fated to meet for the sake of the ancient prophecy consisting of recreation, centering around both herself and a vampire with a soul, specifically Angel. [119]
Jonathan Levinson – During her years at Sunnydale High, Buffy saved Jonathan's life many times from demonic forces, including (but not limited to) the revived mummy of an Incan princess and parasitic, face-hugging demons. These rescues did not go unnoticed, since Jonathan was the person to give Buffy an award for saving the lives of many Sunnydale High students time and again.[2] Also, when Jonathan prepared to kill himself out of despair and wanting to be recognized, Buffy confronted him and talked him out of it (though she mistakenly believed that he was planning to commit murder), and, several months after high school, Buffy lectured Jonathan on the consequences of his using a spell to make everyone adore him.[120][121] Jonathan became Buffy's enemy when he joined The Trio, although, unlike Warren and (at first) Andrew, Jonathan wasn't interested in killing her at all, due to his gratitude for her saving his life countless times (as well as the fact that he found her "hot"). When Warren went overboard and began killing innocent people, Jonathan decided to betray the group, and told Buffy how to defeat Warren (who developed super-powers through the Orbs of Nezzla'Khan).[9] Buffy's anger towards him softened a bit afterwards, and she protected him and Andrew when Willow, consumed with revenge, attempted to kill them for being associated with Warren.[29] Buffy was shocked upon hearing of Jonathan's death, and showed disgust at Andrew for killing him.[122]
Anya Jenkins — When Anya first started going out with Xander, Buffy (like the rest of the Scooby Gang) disliked her and her tactless, inappropriate nature. Anya had noted this but insisted that none of the Scoobies looked down on her, unlike they do Xander.[5]Anya also attempted to give her advice to dump Riley since he wasn't "boring" or "normal", only for Buffy to decline her suggestion.[25] Buffy had also gone to advice for the suspicious adoration of Jonathan, revealing to her the presence of alternate realities. However, Anya expressed slight annoyance to be alone with Buffy without having Xander be there.[121]During an argument with Xander, Buffy would describe Anya as a "lovesick puppy" over him and even said she thought Xander saw her as "convenient".[26] Throughout the years, Buffy and Anya became closer, even friends and after the death of Buffy's mother, a saddened Anya loudly stated "I wish Joyce didn't die!" in an attempt of sympathy. Surprisingly, Buffy did not take offense instead thanking her as she by the that time understood her way of communicating.[58] Following Buffy's death, Anya admitted that she did miss Buffy but life shouldn't stop just because she was dead.[123] Upon Buffy's resurrection, Anya had tried to cheer up a traumatized Buffy by revealing her engagement to Xander but was quickly reprimanded of the inappropriate gesture by Xander. She had also tactlessly kept saying that Buffy had returned from hell, much to everyone's annoyance.[124] Anya had also kindly offered to give Buffy a job at the Magic Box in retail, but after a disastrous day (dubbed the "hour that wouldn't end" by Buffy), she permanently rejected it, since it "bored her to tears."[66] Anya had also expressed her pain at Xander leaving her at the alter, unsuccessfully trying to get Buffy to turn against him.[125] Following Anya's return as a vengeance demon and murder of several frat boys, Buffy resolved to kill Anya despite Xander's intervention, and had fought with Anya. Anya had waved off Xander's attempts to stop her and noted that Buffy's pattern is always trying to kill her friends. However, in the end, Buffy didn't kill her as Anya was turned human again.[126] This event seemed to permanently end their friendship as despite sharing with Buffy her jealousy over Xander going out on a date,[68] she had bluntly told Buffy later "Oh, I'm not your friend." Anya had also harshly and openly called Buffy out on thinking she was better than everyone else, saying that she was blessed with special advantages but no one had told her she had deserved them more than anyone else, being one of the many that forced Buffy out of her own house.[127]
Melaka Fray — Buffy was transported into the future, where Fray was the only slayer in the 23th century. They had at first fought with each other, Fray believing her to be a lurk but soon realized that she was fighting a slayer and not just any Slayer either. Upon this discovery, Fray and Buffy soon grew to trust each other and bond. However, when told by Dark Willow that Fray's world would be gone if Buffy returned to her own time. Fray initially was distrustful of this but worried that she was right. This started her to fight Buffy again and stop her from returning to the 21st century. Despite her efforts, Buffy (after stabbing Willow who was in the way), returned anyway and the warning was proved false as her world still existed in the end.[13]
Illyria -
Faith Lehane
Faith: "There's only supposed to be one. Maybe that's why you and I can never get along. We're not supposed to exist together."
Buffy: "Also, you went evil and were killing people."
Faith: "Good point. Also a factor"
— Buffy and Faith
The bond that Buffy shares with her fellow Slayer is complex and unique, many speculating on a gay attraction between the two, the Buffy/Faith lesbian subtext. They have unique insight into each others' personalities, but each often disagreed on what it meant to be a Slayer. Buffy was alienated next to Faith's enthusiasm for violence and lack of responsibility, while Faith did not understand why Buffy compartmentalized her destiny as if it were a job. Additionally, Faith was jealous of the life Buffy led, surrounded by friends and family. Buffy, never one for rules herself, was somewhat drawn to Faith's rebellious nature,[89] but was horrified when Faith fell into reckless abandon and accidentally killed a man. Buffy, however, held hope that Faith can be saved and tried to help her, but Faith rejected her help. Faith then became worse over time working for The Mayor, even poisoning Angel and caused him to be slowly dying. This act infuriated Buffy and the only cure being the blood of a slayer, she quickly chased down Faith and almost murdered her, stabbing her in the stomach with her own knife. Buffy having lost her when she fell on a moving truck, saved Angel by giving him her blood instead.[107] Despite this, Buffy and Faith still shared a fundamental bond as they shared dreams while Faith was in a coma.
Eight months into a coma until finally waking, Buffy initially hoped that Faith had learned her lesson and changed for the better, seeming to care for her well-being. She also appeared to carry guilt over her attempted murder of Faith and tried to reach out ot her. Unsurprisingly, Faith rejected it due to her grudge against her and promised she would get revenge. Buffy's lingering sympathies and hope for her abruptly disappeared as Faith continued to provoke her about her previous relationship with Angel (particularly how quickly she had re-started another relationship) and threatened to endanger the lives of her loved ones. After threatening her mother, Buffy and Faith battled ferociously against her. Ultimately, Faith won the battle when she pulled out a magical artifact for a "body swap".[128]
Faith's jealousy of Buffy's life culminated when doing a "body swap", consequently purposely sleeping with Buffy's boyfriend at the time Riley, much to Buffy's shock and anger.[129] Buffy ultimately blamed Faith for her briefly damaged relationship with him, describing her as "poison", "acid that eats through everything", and "a bomb". [121]
Finding out Faith's whereabouts in L.A, she immediately came there, wanting to get revenge combined with her worry for her ex-boyfriend Angel's well-being. Buffy had wasted no time lashing out her grudge against Faith despite her guilt, and was deeply disturbed as well as jealous that Angel was so determined to save her (who Buffy now saw as a lost cause) Buffy refused to forgive Faith,  mentioning how hard she had tried to reach out to her only to have Faith brush her off and look down on her. She again reiterated her insecurities that Faith was trying to take everything in her life that she cared about and claim it as her own (Specifically mentioning Riley and Angel). Despite her disgust, Buffy still had protected Faith when the Special Ops forces had tried to take her in and showed no overt desire to kill her. When Faith was revealed to turn herself in for her crimes, Buffy was shocked. However, she had wanted her in jail from the beginning, she just never thought Faith would go willingly.[109]
When Faith returned to Sunnydale to help with The First Evil, Buffy accepted her as an ally and they had a tenuous alliance. Faith tried to follow Buffy's lead, and appeared hesitant to take over leadership after the mutiny against Buffy. However, Buffy surprised Faith by encouraging her to be the leader since someone had to.[130] The First (in the form of Mayor Wilkins) also revealed what Faith couldn't admit: She always wanted Buffy to accept her, to love her even.[127] After Buffy and the gang reconciled, Buffy and Faith discuss their contentious history, coming to the conclusion that they could never get along because two slayers aren't supposed to exist at the same time (Buffy also pointing out that fact that Faith went about killing people which Faith acknowledges)[70] With this, the two finally make peace. However, when Buffy was transported to London where Faith was going undercover to kill a homicidal slayer, Buffy jumped to the conclusion that Faith was evil again and proceeded to attack her with Faith quickly getting the upper hand and almost drowning her in an act of desperation.[97] Buffy, infuriated and hurt, fell out of speaking terms with father-figure Giles following his partnership with Faith. Eventually though, when forced to lose their slayer powers, Buffy and Faith finally develop a still somewhat strained friendship.[52] Following the death of Giles, Faith openly admitted that Buffy was the "true slayer" and gave her the Vampyr slayer handbook that he had left her in his will. Buffy also trusted Faith enough to deal with Angel's catatonia when she couldn't bring herself to, the cause of Giles's death still too fresh in her mind.[15]
During her time in London, Faith tells a slayer she's been watching over called Nadira that her relationship with Buffy is "complicated."[71]Later in the year, due to Dawn's deteriorating health because of the loss of magic, Buffy was forced to call Faith for some help. However, this did not work out as Faith showed ignorance of who Dawn was and Buffy had soon proceded to hang up on her. Frustrated, Buffy irritably described Faith as "occupied and self-centered",[17] but remained unaware of the fact that her reason for doing so was because she lost her fake memories of Dawn, an effect of her magical essence fading away. [131]
Gallery
Buffy and Angel
Promotional Images
Episode Stills
Buffy and Spike
Episode Stills
Buffy and Riley
Promotional Images
Episode Stills
Behind the Scenes
Sarah Michelle Gellar always believed her character was meant to end up with Angel, and was often legitimately emotional during Buffy-Angel scenes. In "The Prom", she could not stop crying while filming the breakup scene, and the set was closed for nearly half an hour to allow her to recover. In "I Will Remember You", David Boreanaz was actually comforting her (he can be heard whispering "Sarah") because she wanted Buffy and Angel to end up together, and was actually crying. Sarah has continued to prefer the Buffy/Angel relationship (where she calls the relationship "Love in it's truest, most pure form").
The writers have often toyed with the concept of Buffy and her best male friend Xander being a romantic couple. Xander had a crush on Buffy, but it was unrequited, with Buffy actually rejecting him when he finally admitted his feelings.[132] When Buffy found herself greatly attracted to Xander while under the influence of a love spell, she was grateful to him for not taking advantage of the situation.[22] More recently, Buffy experiences a strange dream in which she propositions Xander and kisses him on the lips, causing his head to pop off.[12] Jane Espenson claims in the DVD commentary for "I Was Made To Love You" that "it certainly was set up that the two of them should end up together". Sarah Michelle Gellar has gone on record as saying, "I honestly believe [Joss'] original intention was to put Xander and Buffy together. I really do believe that."[133]
Sarah Michelle Gellar was the one to jokingly suggest Spike become a love interest; upon hearing this Joss Whedon was initially quoted as saying "No more vampires!" Sarah was later a very vocal detractor of the Buffy/Spike relationship as it was portrayed in season 6, feeling it was degrading both to the character and the actress.
During scenes in which they were set to appear nude; James Marsters was required to wear a prosthetic sock over his genitialia. Sarah Michelle Gellar notoriously tortured him by tugging on the sock in between takes.
Joss has often spoken of the Buffy/Angel relationship as one of both true love and tragedy, confirming at a Paleo center event that while it may not have been "legal" (speaking about the age difference) that it was definitely "real" and "love".
Joss described Angel and Spike as "the two most important men in Buffy's life" (Entertainment Weekly, 5-03).
Joss said the following about the shooting of the final televised scene between Buffy and Spike in the hellmouth in the Chosen DVD commentary: "I thought that this was a sort of romantic image, the two of them. We actually did it with real fire but their hands were all gelled up and you could tell, so this was added CGI, and looks beautiful. I thought it was a nice comment on their relationship. But what I basically told them was "Play the romance. Be proud of him. Love him when you say you love him. Love her when you say she doesn't love you. Forget about the crumbling world. For that period of time it doesn't exist."
Asked in an interview which of Buffy's relationship he preferred, Joss Whedon said: "You know what, I liked Spike. With Angel it's too "Romeo and Juliet". Which means, as soon as it happens you're bored. Riley, you know he was a well-adjusted person who loved her in a much, much healthier way than the other two guys. Nobody wants to see that. With Buffy and Spike, they had a real Beatrice and Benedick kind of relationship, in "Much Ado About Nothing". I think with the wedding, she would have tried to do something fast, but he would have made it elaborate and done everything wrong. It would have been extraordinarily counter-intuitive, and awesome!" BUFFY the Vampire Slayer, Joss Whedon and Katie Lucas
Like Parker, Eddie was hinted to be Buffy's new love interest in "The Freshman" (to sway the audience from thinking Riley would take this role), only for Eddie to die and Parker turn out to only have a one-night stand with Buffy.[134]
References