Jurassic World: Dominion Dominates Fandom Wikis - The Loop
Play Sound
"The Bronze. It's the only club worth going to around here. They let anybody in, but it's still the scene. It's in the bad part of town."
Bronze was a popular nightclub in Sunnydale. It had a stage, dance floor, pool table, balcony, and bar, with often live performances. The club was located in the "bad part" of the town,[1] by the shipping docks and railroad tracks.[citation needed]
Though the Bronze allowed minors inside, it did not serve alcoholic drinks to them.[2][3] The club also hosted a yearly Fumigation Party, in which captured and/or killed cockroaches could be exchanged for free drinks.[4]
Prominent events
1997
1998
1999
2000
Faith, in Buffy's body, had Willow mistakenly introducing her to Tara. She also used her appearance when she met Spike for the first time and teased him.[18]
Jonathan performed live music, for much of Xander's and Anya' excitement. Buffy and her boyfriend Riley Finn reconciled while dancing to his song.[19]
The Scooby Gang celebrated Tara's 20th birthday.[3]
2001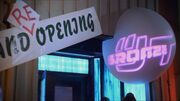 2002
Orb-enhanced Warren hit on a former schoolmate's girlfriend, and when the boyfriend stepped in, Warren fought him off and several others with ease. Xander tried to intervene, but got tossed aside.[24]
Spike, manipulated by the First Evil, seduced and sired many female patrons, one of which was called Charlotte.[25]
2003
Faith took the Potential Slayers out to the Bronze under her guardianship, but had a run in with the Sunnydale police since she broke out of jail.[27]
It was presumably destroyed along with the rest of Sunnydale following the battle at the Hellmouth.[28]
Live performances
"Man, I hate playing vampire towns."
Behind the scenes
The shooting location of the Bronze was at the Buffy the Vampire Slayer studio lot in Santa Monica, California.
Of 144 episodes of the series, 66 have at least one scene at the Bronze, not including its appearance in the Buffy the Vampire Slayer pilot.
About the performances at the Bronze, Buffy music supervisor John King explained that "we like to use unsigned bands" that "you would believe would play in this place."[40]
Some of the Bronze's employees were shown to wear t-shirts with the Bronze logo in episodes "Reptile Boy," "Phases," "Band Candy," and "Doppelgängland."
Differently from the TV show, the Bronze appeared in the Buffy the Vampire Slayer Classic comics as a large building with two large statues and a sign identifying it as "Bronze Club."
Appearances
Canonical
Other
References