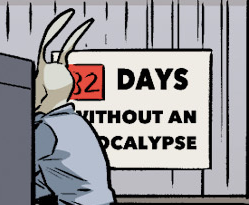 "When I saw you stop the world from, you know, ending, I just assumed that was a big week for you. It turns out I suddenly find myself needing to know the plural of apocalypse."
―Riley Finn
Apocalypse was a specific occurrence which had an exceptionally destructive effect on the human race. The final outcomes of doomsday events varied from a major disruption of human civilization, to the extinction of human life, to the destruction of Earth, to the annihilation of the entire universe.
Several events that almost caused an apocalypse were averted thanks to the efforts of the Scooby Gang and the Angel Investigations team. However, the end of magic not only came to pass, but was actually caused by its respective leaders Buffy Summers and Angel.
Apocalypses
Edit
The death of all living creatures due to the loss of the Sun.[15]
During the Reckoning, the last Slayer and her allies face an army of demons, who were banished to a hell dimension, while vampires were all but wiped up, devolving into lurks. The Slayer herself would also be gone, and no other called until the 23rd century.[32][33]
23rd century
Edit
References
Edit
Community content is available under
CC-BY-SA
unless otherwise noted.