Jurassic World: Dominion Dominates Fandom Wikis - The Loop
Play Sound
This article is about the TV series. For other uses, see Angel.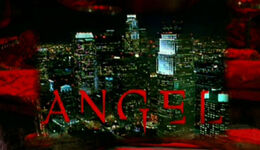 Angel was a spin-off from the American television series Buffy the Vampire Slayer. The series was created by Buffy's creator Joss Whedon in collaboration with David Greenwalt, and it was first aired in October 1999 until its cancellation in 2004.
Premise
The series details the ongoing trials of the vampire Angel, who has his soul restored to him as a punishment after more than a century of murder and torture of innocents, leaving him tormented by guilt and remorse. He works as a private detective in a fictionalized version of Los Angeles, where he and a variety of associates work to "help the helpless" and to restore the faith and "save the souls" of those who had lost their way. Typically, this involved doing battle with evil demons or demonically-allied humans (primarily the evil law firm Wolfram & Hart), as well as battling his own violent nature.
Origin
Co-producer Greenwalt points out: "There's no denying that Angel grew out of Buffy."[1] In Buffy the Vampire Slayer, the character Angel was first seen in the first episode and became a regular, appearing in the opening credits during seasons 2 and 3. In Buffy's season 3 finale, he leaves Sunnydale to continue his atonement without Buffy. Whedon believed that "Angel was the one character who was bigger than life in the same way that Buffy was, a kind of superhero."[2] Whedon has compared the series to its parent, "It's a little bit more straightforward action show and a little bit more of a guys' show."[3]
While the central concept behind Buffy was "high school as a horror movie" in small-town America,[4] co-creators David Greenwalt and Whedon were looking to make Angel into a different "gritty, urban show."[2] Whedon explained, "We wanted a much darker show, darker in tone. It's set in Los Angeles because there are a lot of demons in L.A. and a wealth of stories to be told. We also wanted to take the show a little older and have the characters deal with demons in a much different way. Buffy is always the underdog trying to save the world, but Angel is looking for redemption. It's those two things that creatively make the shows different."[2] Whedon and Greenwalt prepared a six-minute promotional video pitch for the WB Network, the Angel pitch tape. Some shots from this short were later used in the opening credits.[5]
Early during the life of the series, some effort was made to slightly soften the original concept. For example, scenes were cut from the pilot episode, "City Of," in which Angel tasted the blood of a murder victim; the episode that was originally written to be the second episode, "Corrupt," was abandoned altogether. Writer David Fury explained, "The network was shocked. They said 'We can't shoot this. This is way too dark.' We were able to break a new idea, we had to turn it over in three days."[6] Instead, the tone was lightened and the opening episodes established Angel Investigations as an idealistic, shoestring operation. Greenwalt describes the transition for the second season of the series: "our notion was this will be a really dark, gritty urban show, and then we got really bored with that, because the sets were ugly and brown and stuff. That's why we had to blow that office up the first year."[1]
A first draft script reveals that Angel was originally intended to include the character Whistler, played by Max Perlich, who had already been featured as Angel's guide in Buffy episodes "Becoming, Part One" and "Part Two".[5] In an interview, Perlich said, "I never got called again. If they had called, I would have probably accepted because it was a great experience and I think Joss is very original and talented."[7] Instead, the producers created a Whistler-like character, Doyle. Cordelia Chase, also from the original Sunnydale crew, joined Angel and Doyle.
Storyline
Cast
Regular cast
Recurring cast
Crossover characters
Title sequence
Each episode of Angel features a title sequence, presenting each show's cast members, consisting of clips from the show itself. The opening theme was composed by Holly Knight and Darling Violetta, an alternative rock group that performed two songs during the third season of Buffy the Vampire Slayer. Holly Knight was the music producer of the track. The next year, Angel invited bands to submit demos for the theme music to the show. They asked bands to use "dark superhero ideas" and "cello-rock".[8]
Episodes
The series debuted its first season on October 5, 1999 and ran for five years until its finale on May 19, 2004. In that time, 110 episodes of the series aired.
Awards and nominations
DVD releases
Continuity
Based on the TV show, the Angel series has expanded into licensed comics and novels. These stories either adapt aired episodes, fill spaces between stories, or offer a continuity to the series, often involving the original cast and crew. However, the canonicity of these creations aren't always confirmed.
Notably, the comic series After the Fall, Angel & Faith, Angel & Faith Season Ten, and Angel Season Eleven have been produced as the direct continuation of the series in comic form.
References